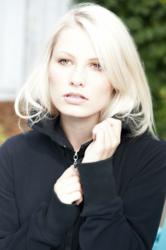 This is the second year that TerraFrog has donated to this wonderful Christmas charity.
Edmonton, Alberta (PRWEB) December 04, 2012
Women's Sportswear designer, TerraFrog Clothing Corporation, announced their Santa's Anonymous Donation Program today. The company announced they will donate a toy to Santa's Anonymous Edmonton each time a Pop Bottle Hoodie is purchased from TerraFrog's online store at http://www.terrafrog.com between December 5th and December 10th, 2012.
"We chose the cozy Pop Bottle Hoodie made partly from recycled plastic containers for our Santa's Anonymous Donation Program because it is our best selling jacket this season," said TerraFrog Director Cori Windsor. "We know tying the donations to this popular jacket will result in TerraFrog donating a lot of gifts to Santa's Anonymous this year."
The hoodies, affectionately referred to as the "Pop Hoodie" by TerraFrog customers and retailers, are available for purchase from TerraFrog's online store at http://www.terrafrog.com. TerraFrog Clothing Corporation will inform customers who purchase the jacket during the Santa's Anonymous campaign about the donation. Said Windsor, "Customers will not only be notified of the donation but they will also be told whether the gift TerraFrog donated was for a boy or a girl."
About TerraFrog Clothing Corp:
TerraFrog Clothing Corp. is a Canadian athletic wear manufacturer providing unique, high quality yoga clothing to individuals and select retail outlets. TerraFrog is well known for their exclusive, trend setting designs and styles. This stylish lifestyle and casual wear company limits the number of pieces they make despite consumer demand.
About Santa's Antonymous
CHED Santa's Anonymous is devoted to bettering the lives of children in the community by delivering the "spirit of Christmas" to less fortunate children in Edmonton.