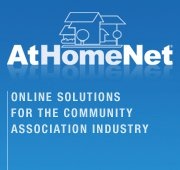 Two Steps Forward & One Look Back.
Suwanee, GA (PRWEB) May 01, 2012
Industry Leading Community Association Web Services firm AtHomeNet, is embarking on their latest expansion, which will see the company move to a new facility, as well as increase their staff. Company owners, employees, and clients will be featured through a series of interactive social media endeavors, videos, and other communications. The campaign will reflect on the business' rapid growth, cherished customer base, and company history.
The new campaign was born out of the firm's desire to give both clients and employees the opportunity to not only follow the move, but join in taking a stroll down memory lane with the AtHomeNet family. The campaign will run from May 1st through July 1st on the AtHomeNet Scrapbook, Facebook, Pinterest, Twitter, LinkedIn, and AtHomeNet's YouTube channel.
"We started out in our den 14 years ago in Duluth," recalled company co-founder Jeff Sanders. "We can hardly believe we've gone from the two of us in that small 10x12 room to a new 16,000+ sq. foot campus with almost 50 employees!"
With enough space to practically double their staff over the next few years, AtHomeNet continues to combine hard work, technology and innovation, and a dedication shared by the company's founders and employees towards providing an important service to their customers.
"We are so excited to share our past with everyone, but even more excited about what that means for our future!" added AtHomeNet CEO, Susan Sanders.
The "Two Steps Forward & One Look Back" campaign will conclude at the beginning of July, and the company expects the effort to share the AtHomeNet story with customers old and new, as well as industry partners and potential customers.
AtHomeNet® is the nation's leading provider of web-based services for communities and association management firms. Established in 1998 by Jeff and Susan Sanders, their HOA websites are now being used in over 2 million homes across 6 countries. AtHomeNet continues to grow as a company and enhance their services in the ever expanding world of online technology.
For more information on AtHomeNet please visit AtHomeNet.com or contact Lauren Briscoe at LaurenB(at)AtHomeNet(dot)com or call 1-800-556-7852.