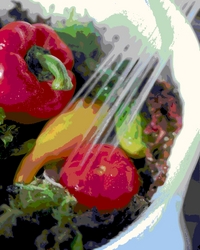 Norwalk, Conn. (PRWEB) August 1, 2008
At Home Rewards (SM), a leading membership discount program offered by Adaptive Marketing LLC®, offers members valuable advice on keeping a well-stocked pantry.
Storing a large supply of items that are most commonly consumed means fewer last-minute runs to the grocery store. With rising gas prices, even short driving trips can put a dent in the family's bottom line. By organizing the pantry and becoming more aware of what's most often consumed, unnecessary (and costly) driving can be avoided. Additionally, knowing what food items are on hand, may allow for more leisurely meal preparation.
Diet and personal tastes vary, so begin by making a list of a dozen or so items that disappear quickly at home. Depending on whether the family includes health nuts, meat-and-potatoes lovers or something in between, the list may look like this:

Butter
Cheese
Peanut butter
Eggs
Bread
Milk
Staple fruits, like bananas, apples and oranges
Staple vegetables, like carrots, potatoes, salad greens, onions and tomatoes
Yogurt
Cooking oils, like olive oil and canola oil
Snacks, like nuts, pretzels or chips
Chicken
Some of the foods listed above may need to be replenished more frequently than others. Becoming aware of the family's "dirty dozen" and stocking up when the timing's right will provide greater flexibility in menu planning -- without having to make repeated runs to the store or ordering take-out.
For the super-organized, type up the final version, and then make multiple copies. Each week, attach a copy to the front of the fridge, and simply circle those items that need replenishing, suggests AtHomeRewards. Here are a few suggestions for how to best stay organized:
-- Make a list. It may be helpful to expand the list and organize items by category, such as "spices," "condiments," "refrigerator items," "freezer items" and "fresh."
-- Maximize savings. Register to receive the grocery store's weekly online sales circular so as to plan ahead and take advantage of advertised sales, which tend to occur at regular intervals for certain items. Save coupons for use during an advertised special to double the savings. And buy in bulk when the price is right.
-- Prolong the life of groceries. Pay attention to "sell-by" and "use-by" dates. Select items that are marked with longer expiration dates whenever possible.
-- Keep things as cool as the other side of the pillow. Most food items, even those not requiring refrigeration, do best in a cool, dry place. Extreme high temperatures can shorten the lifespan and lessen the nutritional quality.
At Home Rewards is all about giving its members useful advice for getting the most out of life. Whether the topic is home maintenance, budgeting, cooking, decorating or home entertainment, just ask the home care experts from At Home Rewards.
AtHomeRewards
At Home Rewards is a leading membership discount program offered by Adaptive Marketing LLC®. Headquartered in Norwalk, Conn., Adaptive Marketing is a category leader in membership programs, bringing value direct to consumers through an array of benefits in healthcare, discounts, security, personal property and personals. Members may access their benefits at AtHome-Rewards.com. With broad online and offline distribution capabilities, Adaptive Marketing offers its corporate client partners effective tools to enhance market presence, strengthen customer affinity and generate additional value through programs such as At Home Rewards.
###