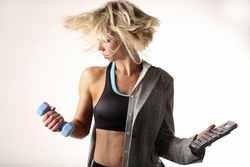 As a former owner of three personal training studios, I've watched fitness trends change
East Northport, NY (PRWEB) April 17, 2009
Certified Fitness Trainer, George Louris, says a growing number of people are squeezing in shorter at home workouts instead of going to the gym.
"As a former owner of three personal training studios, I've watched fitness trends change," says Louris. "While many people join gyms and health clubs, their busy schedules frequently prevent them from working out regularly. I believe it's time for people to save their money, save their time, to cancel their gym and health club memberships, and to start working out right in the comfort of their homes. At home workouts are gaining momentum and for good reason."
Training people since the age of 17, Louris received his certification from the International Sports Science Association a few years ago. Over 20 years of training others has given him some keen insights.
"Most American's are time-deprived, overworked and out-of-shape," says Louris. "They work at a job for 60 hours per week, are busy driving their kids to and from after-school activities, and at the end of the day, there's simply no time left to go work out at the local health club and exercise."
"The solution," says Louris, "is to have an intense full body workout at home for only 15 minutes a day. You don't need expensive exercise equipment, or a lot of space to exercise either. In fact, through simple, yet intense resistance based exercises, you can lose fat and build muscle quickly with an at home workout."
Louris is no stranger to exercise. "Like most men, when my wife became pregnant, I gained 30 pounds, too. It took months of trial and error to develop an exercise regimen that would allow me the freedom to squeeze in short workouts at home between my day job and helping out with the kids at home. Within three short months, I lost the weight, toned up, and felt great. Now I work out 5 days a week to maintain a healthy and fit look, and I have more energy then ever before."
The key to Louris' personal success and the success of his clients revolves around performing high intensity full body workouts at home that focus on major muscle groups, thus maximizing the body's ability to burn fat. His BusyBod Workout System is based on 'The Tabata Protocol,' and Louris explains, "It's geared towards saving people time and effort while still maximizing their results. It's quick and it really works!" 
For more insight about effective and time efficient home workouts, you can review The BusyBod Workout System for yourself.
# # #