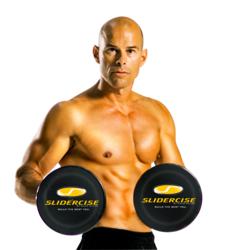 I've been training with the prototype for over a year. I can't put them down, the results have been that great.
Los Gatos, Ca (Vocus/PRWEB) February 24, 2011
Delivering a high-value, American-made fitness product with an economical price tag attached; he eliminated the excuses not to purchase. In a slow, recovering economy, it is the answer fitness beginners and enthusiasts have been looking for, to get in shape or stay in shape, saving time and money over other workout alternatives.
Build the Best You is a fitness and nutrition company designed to help individuals meet their mental, physical and spiritual goals. Slidercise was the missing link that tied the company's mission all together. "It took us a year to develop, but the Slidercise training system is something that will benefit both the beginner and the seasoned athlete. I created Slidercise because there was nothing available of this caliber," says David Miller.
The workout system was made to be versatile and to effectively build and tone all the muscle groups in the body. By developing 10 minute workouts, targeted for specific muscle groups, Slidercise cuts down the time required to train. To meet the demands for a flexible workout schedule, the system was made light weight and travel friendly. This enables an individual to work out at home, in the office, or on vacation. Along with that, the size of the product negates the necessity of having to use an entire room in your home as a workout room.
Slidercise is an American-made, personal workout system. The company went to great lengths to keep the price of the product down and completely domestic built, even though that meant delays in getting the product to market. The CEO was inspired to set an example for any who might follow. "I'm proud to say we're 'American made', not many others can. I like that it keeps the jobs and the money where it is needed, right here in the U.S.," says Miller.
In a down economy, the trend leans toward cutting down on personal expenditures that are associated with healthier lifestyles, like gym memberships and healthy meals. Build the Best You has made a commitment to those struggling to achieve and maintain a healthy lifestyle by providing a free interactive web site to help them reach this goal. Through personal online journals and motivating chapters on nutrition, spirituality and fitness, the company gives the individual the tools needed to get back into great over all shape. It is like having a free personal fitness coach in your own home whenever you need them.
About Build The Best You:
David Miller developed the company around his revolutionary fitness product - Slidercise. Along with his interactive web site, The Naked Truth Diet.com, he offers all the tools needed for an individual to achieve their fitness and nutritional goals - a calorie counter, fitness journal, and enough motivational articles to inspire a change in everyone.
###