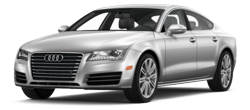 At Audi, it is always our goal to produce dynamic, top performing vehicles that retain their value.
Atlanta, GA (PRWEB) November 22, 2011
Kelly Blue Book which provides in-depth information on new and used vehicles has awarded Audi with three of 2012's Best Resale Value Awards. The Kelley Blue Book Best Resale Value Awards are released annually and are designed to recognize vehicles that are expected to maintain the greatest proportion of their original list price after five years of ownership. The winners of this prestigious award were the 2012 Audi Q7 which received two of the awards, and the 2012 Audi A5 which also received recognition.
The 2012 Audi Q7 is a 7-passenger vehicle and it was named Best Resale Value in the Luxury Utility Vehicle class along with being named one of the Top 10 Cars with Best Resale Value according to Kelley Blue Book's kbb.com. The 2012 Audi A5 which is available in both Coupe and Cabriolet models was named Best Resale Value in the Luxury Car class.
Both vehicles are available at Atlanta Audi dealerships such as Jim Ellis Audi in Atlanta and Jim Ellis Audi of Marietta. Joelle Miller, Marketing Manager for Jim Ellis Audi of Atlanta states, "These awards are representative of the commitment that Audi has to the excellence of their vehicles. Not just with the initial value, but also to the value they maintain throughout their lifespan."
Johan de Nysschen, President, Audi of America stated, "At Audi, it is always our goal to produce dynamic, top performing vehicles that retain their value. We're proud that the 2012 Audi Q7 and A5 have received a stamp of approval from Kelley Blue Book's kbb.com."
Kelley Blue Book's Best Resale Value Awards are based on projections from the Kelley Blue Book® Official Residual Value Guide, which is determined by a skilled staff of automotive analysts. Kelley Blue Book examines current vehicle data, sales data, market conditions for each vehicle, competition within vehicle segments and expectations of the future economy. This year's awards are based on 2012 model-year vehicles.
About Kelley Blue Book (http://www.kbb.com)
Founded in 1926, Kelley Blue Book, The Trusted Resource®, is the only vehicle valuation and information source trusted and relied upon by both consumers and the industry. Each week the company provides the most market-reflective values in the industry on its top-rated website http://www.kbb.com, including its famous Blue Book® Trade-In and Retail Values and Fair Purchase Price, which reports what others are paying for new cars this week. The company also provides vehicle pricing and values through various products and services available to car dealers, auto manufacturers, finance and insurance companies as well as governmental agencies. Kbb.com provides consumer pricing and information on minivans, pickup-trucks, cars, hybrids and SUVs. Kelley Blue Book Co. Inc. is a wholly owned subsidiary of AutoTrader.com.
About Audi of America
Audi of America, Inc. and its U.S. dealers offer a full line of German-engineered luxury vehicles. AUDI AG is among the most successful luxury automotive brands globally. During 2010 Audi was the top performing luxury brand in Europe and broke all-time company sales records in the U.S. Over the next few years, AUDI AG will invest nearly $16 billion on new products and technologies. Visit http://www.audiusa.com or http://www.audiusanews.com for more information regarding Audi vehicle and business issues.
About Jim Ellis Audi
Jim Ellis Audi of Atlanta is a full service new and used Audi dealer in Atlanta, GA, that has been in business since 1971. They carry the largest inventory of both new and used Audi vehicles in the Atlanta area. Their service technicians are trained on Audi cars and SUVs for premium repair and service on all Audi vehicles. Visit their website at http://www.jimellisaudi.com for dealership information or to schedule Audi service in Atlanta online.
###