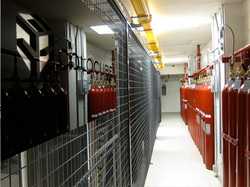 we have expanded our footprint in Atlanta and enhanced our offering with a managed backup solution
Atlanta, GA (PRWEB) March 18, 2010
Colocube is pleased to announce that it has expanded it's Atlanta colocation footprint in the Atlanta market at 56 Marietta, the renowned carrier-hotel in downtown Atlanta and has begun offering a cloud storage disaster recovery solution.
"We are pleased to announce that we have expanded our footprint in Atlanta and enhanced our offering with a managed backup solution for SMBs and enterprise customers providing support for heterogeneous applications and operating systems," stated Colocube CEO Fred Tanzella. "Colocube continues to grow month-over-month with our best month ever in February, 2010. Key factors to Colocube's growth have been maintaining carrier neutrality, being flexible with customer requirements, operating SAS 70 certified facilities, and providing services above and beyond standard hosting company offerings. Working with premier partners to help close their deals has been a major factor in contributing to both our success and that of our partners," Fred Tanzella said.
About Colocube:
Colocube is a US-based hosting firm headquartered in Atlanta, Georgia, specializing in high-performance IT hosting, colocation, disaster recovery and IP Services with a global presence. Colocube operates SAS 70 certified facilities and is carrier-neutral, offering the richest connectivity with over 80 providers in the most secure and reliable colocation facilities for our customers' mission critical operations.
###