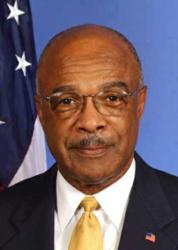 New Mercies' Senior Pastor Jesse Curney, III, said the event celebrates Black History Month and honors Paige as "a living legend."
Lilburn, GA (PRWEB) February 06, 2013
Dr. Rod Paige, a life-long educator, former U.S. Secretary of Education (2001-2005), and celebrated author, will keynote the Black History Month celebration at New Mercies Christian Church on Wednesday, February 13, 2013, at 7:00 PM. New Mercies is located at 4000 Five Forks Trickum Road SW, Lilburn, GA 30047. Those interested in issues regarding Atlanta education are invited to attend.
Paige was the first African-American to serve as U.S. Education Secretary. A seasoned administrator and steadfast advocate for student achievement, Paige prizes innovation. As Secretary, he raised national standards for academic excellence with the bipartisan passage of "No Child Left Behind (NCLB)." NCLB was a reauthorization that included Title I programs for disadvantaged students. Intended "to close the achievement gap with accountability, flexibility, and choice…" NCLB requires states to assess basic skills to receive federal school funding.
New Mercies' Senior Pastor Jesse Curney, III, said the event celebrates Black History Month and honors Paige as "a living legend." The Wednesday evening program is free and open to the public. Pastor Curney recalled that Paige was present at the historic signing of the No Child Left Behind Act in 2002, along with the late Sen. Edward Kennedy (D-Mass), and Rep. John Boehner (R- Ohio), who introduced the bill.
A Public Policy Fellow at the Woodrow Wilson International Center for Scholars, Paige is regarded as a thoughtful leader. He is also a popular author. In 2006 he published The War Against Hope. In 2010, he released, The Black-White Achievement Gap: Why Closing it is the Greatest Civil Rights Issue of Our Time. Paige is expected to discuss his writings during his remarks at the free, Black History Month event. And, as the former Superintendent of the seventh largest school district in the nation, he is likely to comment on school violence and controversial proposals to arm teachers.
For more information, contact New Mercies at (770) 925-8600.
For interviews, call Veux Marketing, Inc. at 404-975-4881.