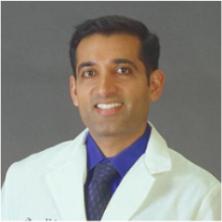 Dr. Ashraf helped me get my vision back and I am forever grateful.
Atlanta, GA (PRWEB) September 24, 2012
In September, Dr. Farooq Ashraf, board certified ophthalmologist in Atlanta, was faced with the challenge of treating his patient's legal blindness. When Mr. Dunkin was diagnosed with cataracts, Dr. Ashraf performed cataract surgery, which entailed implanting a lens in the patient's eye and restoring vision to its clearest state. Following the procedure, Mr. Dunkin was able to see almost perfectly instantly. Dr. Ashraf remarks: "The results in this case were incredibly dramatic and rewarding. My patient can now see clearly without ever needing glasses or contacts." Mr. Dunkin spoke very highly of the process as well: "I can finally sit in my backyard and watch the squirrels and the birds, something I've never been able to do before I had surgery. Dr. Ashraf helped me get my vision back and I am forever grateful. He and the rest of the staff at the Atlanta Vision Institute are good people and I am very pleased with the outcome."
A cataract is a fairly common condition that is most often linked with age-related diminishment of visual clarity. Modern procedures, many of which are available in Dr. Ashraf's office, can treat the issue and restore eyes to their original function. Some research suggests that protecting the eyes against the harmful effects of the sun's rays may work to prevent the development of cataracts. Cataract surgery involves removing the eye's natural lens and replacing it with an artificial one to improve visual acuity.
Passionate about the study of eyes and vision, Dr. Ashraf helps people see clearly by performing LASIK surgery everyday at his facility in Atlanta and his clinic in Dubai. Credited with a prestigious academic background, Dr. Ashraf performed his ophthalmology residency at George Washington University and participated in advanced training in corneal and refractive surgery at Johns Hopkins, which is ranked as one of the top academic institutions in the United States.
Dr. Ashraf has performed more than 40,000 laser eye surgeries and continues to satisfy his patients with his precision, experience and knowledge. At the Atlanta Vision Institute, Dr. Ashraf utilizes only the most advanced technology and equipment for every diagnosis, exam and surgery. If you're interested in more information about Dr. Ashraf, visit his website at http://www.atlanta2020.com or call 770-622-2488.