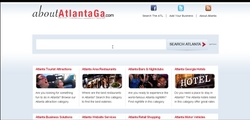 Each aboutAtlantaGA.com one-page profile has interactive features and tools designed to make the page a joy to use
Atlanta, GA (Vocus) September 8, 2010
About Atlanta Incorporated announces the official launch of aboutAtlantaGA.com today, the new local Search Engine Directory for Atlanta businesses, residents and tourists. The web site was custom built to help people easily search for local businesses and find things to do in Atlanta. Click here to view a demo of aboutAtlantaGA.com on YouTube.
The new local search engine directory for Atlanta is neatly organized by 16 primary categories and over 150 sub-categories. Web site users can conduct searches by keyword, zip code and category to obtain relevant one-page profiles of local Atlanta businesses.
"Each aboutAtlantaGA.com one-page profile has interactive features and tools designed to make the page a joy to use," states Kelly Campbell, the Editorial Director. "One-page profiles function like mini-websites and empower our users to interact with local businesses."
Businesses with an Atlanta mailing address may request a free one-page profile or premium one-page profile on aboutAtlantaGA.com. A free one-page profile includes a listing page with the company's name, tagline/slogan, short description, phone number, website link, and an email contact form.
A premium one-page profile includes over a dozen additional marketing calls-to-action and interactive tools. For example, premium profiles give users the ability to befriend local businesses on Facebook, follow them on Twitter, access company reviews, find Google Maps directions, email profiles to friends, download PDF files and more. The rate options for a premium profile are $39 per month, $99 per quarter, or $299 per year.
Atlanta businesses can add their company to aboutAtlantaGA.com themselves by creating an account. All registered accounts can add and update their premium one-page profiles via an easy to use dashboard. The dashboard has character counters (similar to Twitter's character counter) to ensure the content sections on each profile page maintain consistency.
"The objective for the aboutAtlantaGA.com interface was to design an intuitive local search engine directory for people to obtain relevant information about Atlanta businesses in bit-sized chucks," said Anthony Ragland, the User Interface Designer.
Website users of aboutAtlantaGA.com will experience several benefits while using the local search engine directory. For example, each aboutAtlantaGA.com category page displays mini-profiles of relevant Atlanta businesses to help users make informed decisions. The mini-profiles include the company name, a photo/logo, phone number, tagline/slogan, and short description of the local business. By scrolling down the page, a person will quickly learn about dozens of Atlanta businesses and find things to do around town.
Website users have the option of creating an account in order to write customer reviews on local businesses. All other interactive features such as giving star ratings, using Google Maps, emailing profiles to friends, sending priority emails, and downloading PDF files do not require users to create an account.
"aboutAtlantaGA.com is a useful online resource for the city of Atlanta," said William S. Galkin, an Internet Law Attorney. "People will use aboutAtlantaGA.com because it works well, it's user-friendly and the information is relevant for locals and tourists."
About ABOUT ATLANTA INCORPORATED
About Atlanta Incorporated is the founding company of aboutAtlantaGA.com, the local search engine for Atlanta businesses, residents and tourists. The company has expansion plans to develop and launch a local search engine directory in every U.S. state within 2 years. The web directory software has a scalable code base and system architecture, which allows the developers to quickly deploy new search engine directories in emerging local markets. For more information or to inquire about Investor relations, please call (404) 720-0941 or visit http://www.aboutAtlantaGA.com .
About http://www.aboutAtlantaGA.com
AboutAtlantaGA.com is a Web 2.0 compliant and W3C Valid XHTML 1.0 Transitional table-less website with search engine optimized shorthand CSS markup. It is supported by jQuery, JS scripts, PHP applications, and MySQL database administration. The aboutAtlantaGA.com User Interface is compatible with Internet Explorer, Firefox, Chrome, Safari and mobile browsers. aboutAtlantaGA.com users are assured the highest level of transaction processing security and data protection from a GeoTrust True Business 256-bit encryption SSL certificate and secure Authorize.net payment gateway.
This release contains "forward-looking" statements that are made pursuant to the Safe Harbor provisions of the Private Securities Litigation Reform Act of 1995. These are statements that are predictive in nature, that depend upon or refer to future events or conditions, or that include words such as "believe," "estimate," "anticipate," "plan," "predict," "may," "hope," "can," "will," "should," "expect," "intend," "is designed to," "with the intent," "potential," and similar expressions. This press release contains forward-looking statements relating to, among other things, About Atlanta Incorporated' expectations and assumptions concerning future company performance. Forward-looking statements involve known and unknown risks and uncertainties that may cause actual future results to differ materially from those projected or contemplated in the forward-looking statements.
# # #