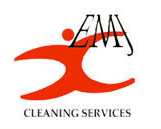 The bathroom is a hub for germ-breeding
Atlanta, GA (PRWEB) August 17, 2012
EMJ Cleaning is an Atlanta house cleaning company that has been serving homes and office buildings for over 10 years. After surveying a pool of homeowners about their cleaning methods, EMJ owner Eric Cano realized that the majority had been frequently neglecting to disinfect their bathrooms. As a result, Cano released guidelines for ridding these particular areas of the germs and bacteria that can lead to serious infections and diseases.
"The bathroom is a hub for germ-breeding," states Cano. "The mold-buildup on the shower curtain alone could lead to severe illnesses if untreated." One of Cano's strategies is to wipe down the shower curtain liner once a month with a disinfecting wipe or to place the liner in the washing machine with a bleach detergent. A second tip offered by Cano is to mop the bathroom floor once a week to kill the millions of germs that are carried onto every square inch from the bottoms of our shoes. Moping with water will only spread the bacteria around, which is why it's important to accompany that with a potent cleanser.
"The toilet must be cleaned with a proper toilet brush and cleanser once a week to every few weeks, depending on the number of people who use it," suggests Cano. In addition, he advises to leave the lid down prior to every flush, otherwise the dirty particles can filter the air. "It's important to keep items like toothbrushes and contact cases as far away from the toilet as possible so that if you flush the toilet with the lid up, the particles won't end up on your teeth and eyes."
Eric Cano has a licensed, bonded and insured team of uniformed employees that are qualified and properly-trained in residential cleaning, commercial cleaning, move-out cleaning, window cleaning, carpet cleaning, heavy duty cleaning and deep cleaning. If you need a professional cleaning crew, you can make an appointment with EMJ's team that will accommodate your schedule. If you are unsatisfied with the finished work, EMJ will provide you a discount. A $10 discount is also offered to all first-time customers. Life is too short to spend it cleaning your home, why not let EMJ help you out? For more information, visit http://www.emjcleaning.com or call 678-966-9469.