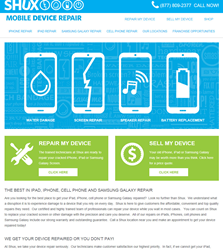 ...We look forward to serving the residents of Atlanta with the same convenient, reliable service that we have provided to our loyal customers in other parts of the country. -Jim Thornton, Director of Franchise Sales
Atlanta, GA (PRWEB) July 11, 2014
Shux, an iPhone, iPad, and Samsung Galaxy repair specialists, is pleased to announce the opening of their new Atlanta location on July 7, 2014. Shux specializes in the repair of iPhones, iPads and Samsung Galaxy devices including cracked screen repair or replacement services as well as water damage restoration. They also offer expert battery and LCD replacement services. Shux has created a name for themselves in the cell phone and electronic device repair industry by providing convenient and reliable repair service using high quality parts, delivered by a well-trained and knowledgeable staff of repair technicians. Their goal is to make it easier and more convenient for consumers to have their cell phones and electronic devices repaired. To this end, they offer their services seven-days-a-week and offer extended hours and same-day appointments to accommodate busy consumers and working professionals.
The newest Shux location is located in the 3000 block of Piedmont, across from Tower Place in the "disco Kroger" shopping center. This premium location is currently home to several well-known establishments including Starbucks and is well-positioned to take advantage of the large amount of customers coming in and out of this busy shopping plaza and pedestrian area. By opening this new location, Shux hopes to capture a significant portion of the growing cell phone and electronic repair market. According to Squaretrade, a company that offers warranties on iPhones, iPads and other devices, Americans have spent approximately 5.9 billion dollars repairing their devices since the iPhone was first released in 2007.
With its large population and favorable demographics, the Buckhead neighborhood in Atlanta is a logical choice for a new Shux location. According to Shux's director of franchise sales, Jim Thornton "We are pleased to open our latest store in the Buckhead neighborhood in Atlanta. In it, we look forward to serving the residents of Atlanta with the same convenient, reliable service that we have provided to our loyal customers in other parts of the country. We hope the opening of our store will serve to make it easier for the residents of Buckhead and Atlanta to have their cell phones and other electronic devices repaired, so they can return to their busy lives."
In addition to cell phone and electronic device repair services, Shux will also buy used cell phones and tablet computers, for cash. This buying program allows consumers to turn any used cell phones or tablet computers that are currently lying around their homes into cash that can be simply pocketed or used to upgrade to the most current electronic products.
About Shux:
Shux is a cell phone and electronic device repair company that specializes in the repair of iPhones, iPads, Samsung Galaxy devices and other electronic devices. They are located at 3330 Piedmont Road NW, Suite 7, Atlanta, Georgia 30305. Their hours are Monday through Friday from 10AM to 7PM, Saturday from 10AM to 4PM and Sunday from 12 PM to 4PM. They offer same-day appointments. If you would like more information or to schedule an appointment, please visit their website at http://www.shuxrepairs.com or call their Atlanta store at (678) 203-1733.