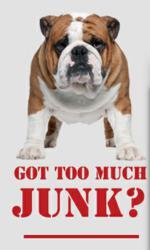 We consider ourselves the alpha dog when it comes to junk removal
Atlanta, GA (PRWEB) October 18, 2012
Alpha Junk Removal is an Atlanta junk removal service that gets rid of furniture, appliances, electronics, construction materials and other household items from homes, office buildings, warehouse and storage spaces. Alpha Junk Removal is currently offering discounts to numerous families in the metro Atlanta area that undergoing foreclosures and even evictions for move out cleaning.
"There have been multiple foreclosures occurring in the Atlanta real estate market. We're just trying to lend these residents a hand during this tough time by offering discounts with our services," states Stephen Elliott, owner and founder of Alpha Junk Removal.
Alpha Junk Removal is available 24 hours a day, 7 days a week to remove the following: mattresses, box springs, household garbage, scrap metal, yard debris, computers, stereos, tables, chairs, couches, desks, cabinets, entertainment units, refrigerators, washers and/or dryers, water heaters, dishwashers, stoves, television sets, office equipment, carpets and more. "We consider ourselves the alpha dog when it comes to junk removal," says Elliot. "We'll get rid of almost anything for you with the exception of chemicals, oils, asbestos and gasoline products."
Alpha Junk Removal is owned by StructureMedic, a water damage company that also specializes in fire damage, smoke damage and mold removal. Stephen Elliott also owns StructureMedic and travels with his professional team all along the East Coast to help residents that have experienced water damage as a direct result of bad storms and weather. "We like to think of ourselves as capable of helping our clients with a variety of problems, from having too much junk to experiencing a flooded basement," says Elliot.
Alpha Junk Removal is ideal for people looking to move in and out of a space relatively quickly or just getting rid of years worth of junk. Alpha Junk Removal also services office buildings and other commercial-type venues. For more information on Alpha Junk Removal, visit the website at http://www.alphajunkremoval.com or call 404-915-5820 for 24/7 support. For more information on StructureMedic, please visit http://www.structuremedic.com.