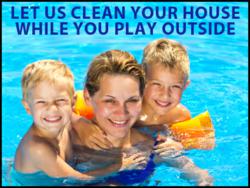 Our team holds itself to the highest professional standards
Atlanta, GA (PRWEB) August 23, 2012
EMJ Cleaning is an Atlanta maid service that recently announced its 'Refer a Friend' program on its website. The 'Refer a Friend' program offers discounts to customers who turn their friends, family members or neighbors into EMJ customers by making them aware of its professional services. Customers will receive $10.00 off the next cleaning for referring 1 other person or 50% off the next cleaning for referring 3 different people. Referral forms are now available online at emjcleaning.com and can be submitted by email, fax or they can be printed out to be picked up by EMJ's cleaning crew at the next scheduled appointment.
EMJ Cleaning provides residential and commercial cleaning to clients in Atlanta and surrounding cities. The cleaning crew is made up of exceptionally trained and uniformed employees that utilize quality products such as Pine Sol, Clorox, Pledge, Soft Scrub and more for each chore. Residents can choose between regular cleaning, heavy duty cleaning or deep cleaning. Other services provided by EMJ are move out cleaning, which includes deep cleaning, window cleaning and carpet cleaning. EMJ takes pride in its work and even offers clients a feedback form that can be filled out and submitted online.
"Our team holds itself to the highest professional standards," states Eric Cano, owner of EMJ Cleaning. EMJ's team performs a variety of tasks such as removing trash and replacing bags, vacuuming and mopping hardwood floors, vacuuming carpeted floors, dusting all furniture and fixtures, wiping down counter tops and appliances, scrubbing bathtubs and toilets in all bathrooms and many more.
Life gets busy and when it does, it's good to have dependable resources that will lend a helping hand. EMJ accommodates its clients with appointment times so they can go about their daily routines without being inconvenienced. A discount will be offered to any unsatisfied customer and free estimates are given to all first-time customers. No matter what the task, EMJ guarantees affordable rates and superior work. If you are interested in EMJ Cleaning, go online to http://www.emjcleaning.com or call 678-966-9469 and get a free estimate.