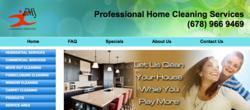 We hold ourselves to a very high degree of professionalism.
Atlanta, GA (PRWEB) October 24, 2012
Within the last couple weeks, professional house cleaning service in Atlanta, also known as EMJ Cleaning, has had more of its services scheduled for October than for any other month so far in 2012. "The common theme for most of these appointments seems to be Halloween parties," states owner of EMJ Eric Cano. "We are in very high demand for our deep cleaning and our heavy duty cleaning services specifically."
Parties of any kind can be stressful when the amount of cleaning that is required beforehand is taken into consideration. EMJ Cleaning is currently aiming to relieve the stress of its clients in the Atlanta area and neighboring cities by offering its services and discounts prior to the holiday parties that are commencing soon.
EMJ's deep cleaning service entails changing bed sheets, vacuuming carpeted surfaces and mopping hardwood floors, removing spider webs, cleaning curtains and blinds, cleaning window frames, removing trash and replacing trash bags, wiping down stovetops and countertops, cleaning kitchen appliances, shining the chrome on sinks and sink faucets, loading the dishwasher with dirty dishes, scrubbing the toilets and tubs in bathrooms and more.
EMJ's heavy duty cleaning service takes about 2-8 hours and entails most of the same deep cleaning tasks and in addition cleaning the inside of the refrigerator, cleaning the garage, cleaning the basement, wiping off laundry appliances, scouring the sinks and more.
EMJ Cleaning has been offering its residential and commercial services to people of Atlanta for over a decade and continues to delight its clients with its prices, performance and customer service. "We hold ourselves to a very high degree of professionalism. If our clients aren't unhappy with our work, we'll offer a discount," says Cano. If you're planning a party or are in need of various cleaning services, call 678-966-9469 or visit the website, http://www.emjcleaning.com for more information!