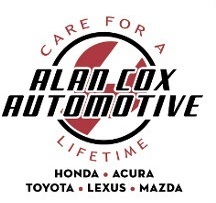 Marietta, GA (Vocus) May 3, 2010
Alan Cox Automotive has an outstanding reputation for its superb auto maintenance and repair service on Honda and Acura automobiles. The high tech auto repair company is now expanding its market with the addition of maintenance and repair service for the Lexus, Toyota and Mazda brands. The Alan Cox technicians have been trained and ASE certified for all models of the new brands and supply the same excellent service that they provide to their Honda and Acura customers. The expansion into servicing Lexus, Toyota and Mazda autos is being supported by the launch of a new Alan Cox Automotive website which highlights the new maintenance and services available.
The new website highlights the new Alan Cox Automotive services with a page for each brand and a scheduling system for requesting appointments. The website also has links to the company's monthly newsletter which provides helpful tips on keeping your vehicle in tip-top operating condition. An online Auto Parts Store is also located on the new website. The beauty of the online parts store is that it is available 24/7 for customers to order "High Performance Racing Parts" and accessories for their Honda, Acura, Toyota, Lexus, and Mazda vehicles. The store also offers replacement parts for most Japanese cars and trucks. If a customer desires, Alan Cox ASE Technicians can install the "High Performance Parts" or replacement parts on their auto. Alan Cox Automotive also sells used cars on the website. Customers can select from a select group of used Honda, Acura, Toyota, Lexus, and Mazda vehicles. Often these cars come from existing customers so they are often very familiar with the condition of the cars they are selling.
Sherry Richardson the owner of Alan Cox Automotive commented on the expansion of the number of car brands serviced. "Since we have expanded our brands beyond Honda and Acura cars to include Lexus, Toyota and Mazda we can service a much larger segment of the Atlanta metro car market. The move has enabled the business to grow and by keeping our service at the highest standards we are getting increased numbers of referrals from existing customers. The new website has really helped our visibility on internet and increased the number of new customers coming from the web. Our web directory listings have highlighted the business on mobile devices which are also becoming an excellent source of new customers. Our warranty program, which certifies our work for 18 months or 18,000 miles versus our competitors who use a standard warranty of 12 months or 12,000 miles, continues to keep our customers coming back again and again. We live by our motto and strive to provide our customers…Care for a Lifetime."
Founded in 1983, Alan Cox Automotive has been servicing Honda and Acura autos since the company's founding and has now added the Lexus, Toyota and Mazda brands. The company is located at 1326 Cobb Parkway North, Marietta, GA 30062. They can be reached by phone at 770.427.1745.
###