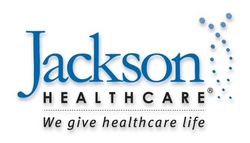 This ongoing recognition isn't a reflection of our organization. It's a reflection of our associates.
Alpharetta, GA (Vocus) October 4, 2010
Jackson Healthcare has been named one of Atlanta's Best Places to Work for 2010 by the Atlanta Business Chronicle. This is the fourth consecutive year that the Atlanta Business Chronicle -- Atlanta's leading business publication -- has listed Jackson Healthcare among the best employers in the city.
"This ongoing recognition isn't a reflection of our organization. It's a reflection of our associates," said Richard Jackson, president and chief executive officer of Jackson Healthcare. "I want to publicly say to our associates how much I appreciate and admire what they bring to our culture every day. We are who we are because of them."
If there is a "secret ingredient" to satisfaction and loyalty, Jackson believes it lies in treating associates like volunteers. "We benefit from a unique collection of talented individuals," said Jackson. "They could work anywhere they want and they choose to work here. We don't take that for granted."
Everything from the organization's fitness and wellness programs, to comprehensive benefits, to support of charitable and community organizations, are designed to recognize and reinforce associate's commitment to culture and performance.
The "Best Places to Work" Ranking is based on company data and employee survey responses. The Atlanta Business Chronicle, in partnership with Quantum Workplace, surveys the metro area's businesses and organizations to identify those that have discovered what it takes to be among Atlanta's best places to work. More than 400 companies were nominated by readers for the 2010 awards, and employees of those companies were asked to complete an online survey containing questions about their work environment, co-workers and management teams. Quantum used analytical tools to rank the top employers in three categories: the top 10 in the large category (501 employees or more in the metro area), the top 20 in the medium category (those with 101 to 500 employees), and the top 20 in the small category (10 to 100 employees).
For more information contact Keith Jennings at 678.690.7942 or kjennings(at)jacksonhealthcare(dot)com.
About Jackson Healthcare
Founded by the healthcare innovator Richard Jackson, Jackson Healthcare serves more than two million patients in nearly one thousand hospitals each year. The Jackson family of companies provides physician and clinician staffing, anesthesia management, hospital management and healthcare information technology solutions proven to improve clinical and financial outcomes, as well as increase operational efficiency. Jackson Healthcare has earned national media coverage for its physician polls and champions local and international charitable work. In addition, Jackson has been recognized as one of the largest and fastest growing staffing companies in the country by the Inc. Magazine, Atlanta Business Chronicle, Georgia Trend and Staffing Industry Analysts. For more information about Jackson and its companies, visit JacksonHealthcare.com.
###