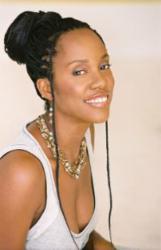 Stay open to possibilities and grab hold of love in whatever color or cultural package it is wrapped in.
Atlanta, GA (PRWEB) September 18, 2012
Singles of all races are invited to the Atlanta, Date Who You Want! discussion on Friday, September 28, 2012, at the Marriott Perimeter Center, 246 Perimeter Center Parkway NE Atlanta, Georgia, 30346.
A panel of interracial dating experts spearheaded by Christelyn D. Karazin, popular blogger (beyondblackwhite.com) and co-author of the newly released book Swirling: How to Date, Mate, and Relate Mixing Race, Culture, and Creed (ISBN 9781451625851), will discuss how singles in Atlanta can free themselves from their barriers to finding the true love that they deserve by expanding their dating options to include people of other races.
"Stay open to possibilities and grab hold of love in whatever color or cultural package it is wrapped in." Christelyn Karazin
Sponsored by ONYX Atlanta (onyxatlanta.com), a group that plans social events for black women and men of other races and cultures and DateWhoYouWant.com, a premier interracial dating website, this lively discussion (that includes audience question and answer) will discuss:

Does the issue of men outnumbering women in Atlanta really have an impact on women of color and their dating choices?
What are the preconceived notions people have about interracial dating that keeps them single?
Why are millions of black women who go to church praying to God to bring them a husband still without one?
Why are interracial relationships presumed to be tension-filled?
How to handle your mixed relationship when your family or friends do not approve
How to bypass the shortage of available black men and Date Who You Want!
How to deal with the social pressure that interracial dating attracts
How to make yourself interracially approachable
Why dating interracially does not mean that you have abandoned your own race
Do white men get "backlash" from their families and peers for dating women of color?
Why some women confuse flirtation and casual sex with a commitment
What are the real reasons there are so few single black men of marriageable quality in black churches?
How character counts and why you should date who you want!
The Atlanta, Date Who You Want! discussion opens at 7:30pm with a meet & greet cocktail hour. The discussion starts at 8:00pm and ends at 10:00pm.
The cost to attend is $10. To register or for more information, visit http://www.onyxatlanta.com or call 404.242.2926.