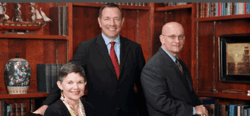 "We take issues of fairness and equality personally." - Jeff Cleghorn, Kitchens New Cleghorn, LLC
Atlanta, GA (PRWEB) August 04, 2012
Readers have spoken: Atlanta lawyers Kitchens New Cleghorn, LLC have been voted "Best Law Firm" serving the lesbian and gay community in Fenuxe Magazine, a publication read by thousands of LGBT men and women across the metro region.
The honor follows submissions from readers who voted on businesses best serving the LGBT community with respect and sensitivity. Categories included arts and entertainment, beauty and community.
Partners Joyce Kitchens, Randy New and Jeff Cleghorn are honored by the recognition.
"Our law firm fights for LGBT people and their families in courtrooms across the state of Georgia because we take issues of fairness and equality personally," Cleghorn said.
Best Atlanta Lawyers Title Second This Summer
The honor marks the second time this summer KNC's efforts to better serve lesbian and gay men and women in Atlanta have earned recognition.
In July, KNC was voted "2012 Best Law Firm" by readers of the GA Voice, an Atlanta-based newspaper targeting gays and lesbians statewide.
Established Attorneys for LGBT Causes
Besides offering sensitive, skilled counsel on matters ranging from establishing domestic partnership agreements to gay adoption in Georgia, KNC has conducted outreach and hosted events designed to better familiarize the community with its rights.
The firm hosted a gay marriage forum in June and an event last fall outlining powers of attorney, second-parent adoption and many other legal protections existing for Georgia same-sex couples.
In addition, on Aug. 16, these active attorneys for LGBT rights will host an event aimed at cutting suicide rates among gay and lesbian youths.
"Georgia's laws are not always hospitable to its LGBT citizens, so it is a privilege to advocate for them," Cleghorn said.
For more information about these attorneys for LGBT rights, visit
http://www.gadivorcelitigators.com
http://www.gadivorcelitigators.com/alpharetta/