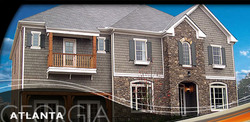 In order to achieve results of this caliber, a team effort is needed from sales, administration, construction and warranty service combined with excellent execution in one of the most difficult housing markets in recent history
Atlanta, GA (PRWEB) October 20, 2009
Ashton Woods Homes, a premiere builder of eco-friendly and energy efficient new homes today announced that its Atlanta division had taken 2nd place in Overall Quality in the 2009 J.D. Power Survey for New-Home Builder Customer Satisfaction Ranking.
According to the recently released 2009 Survey, Ashton Woods' Atlanta division was awarded 2nd place in the Survey for New-Home Builder Customer Satisfaction Ranking.
Established in Dallas, TX in 1989 and now headquartered in Atlanta, GA, Ashton Woods Homes builds high-performance homes in growth communities in Atlanta, Dallas, Houston, Phoenix, Orlando and Tampa.
The 2009 Survey reviews nine factors that drive overall customer satisfaction with home builders: workmanship/materials; builder's warranty/customer service staff; price/value; builder's sales staff; construction manager; home readiness; recreational facilities provided by the builder; builder's design center; and location. Ultimately, the survey ranks the top 3 winners in 24 different markets.
"Not only did we achieve top honors in several of our markets, but all of our operations were rated as one of the top three builders for Overall Customer Satisfaction," stated Tom Krobot, President and CEO of Ashton Woods Homes.
The survey also points to increases in on-time delivery, the importance of workmanship, energy efficiency and environmental conservation among the surveyed homebuyers.
"In order to achieve results of this caliber, a team effort is needed from sales, administration, construction and warranty service combined with excellent execution in one of the most difficult housing markets in recent history," explained Krobot.
Homebuyers are supporting what Krobot says, too; with record sales in several of the markets where customers ranked Ashton Woods Homes highest in satisfaction.
Visit Ashton Woods Homes on the web at http://www.ashtonwoodshomes.com and view new homes and new home communities in Atlanta, Dallas, Houston, Phoenix, Orlando and Tampa.
J.D. Power and Associates is a registered trademark of J.D. Power and Associates. Information included herein is used to convey factual information as a protected fair use under the copyright and trademark laws. No sponsorship or affiliation exists with nor is any suggestion of sponsorship or affiliation intended by reference to the trademark or material included herein.
About Ashton Woods Homes
Ashton Woods Homes is a subsidiary of the Great Gulf Group- a fully-integrated collection of companies that spans the entire real estate spectrum in North America - from land acquisition and development to the design and construction of master planned communities. For more information, visit http://www.ashtonwoodshomes.com or call (770) 642-6123.
Contact
Tad Serbin, Ashton Woods Homes
Phone: (770) 642-6123
Email: tserbin(at)ashtonwoodshomes.com
###