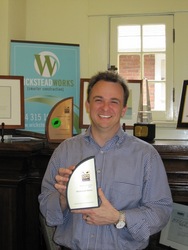 We are extremely humbled to be recognized with this award two years in a row
Atlanta, GA (Vocus) February 4, 2010
Southface and The Greater Atlanta Home Builders Association (GAHBA) named WicksteadWorks its 2010 Renovator of the Year during an award ceremony held January 29 at Philips Arena's Horizon Club. It is the second straight year the Atlanta-based remodeler has earned this honor.
The Renovator of the Year award recognizes an EarthCraft House renovator that has gone above and beyond established measures to decrease energy consumption in an existing home. A team of EarthCraft House judges selected the nominees and winners for the awards.
"We are extremely humbled to be recognized with this award two years in a row," said Frank Wickstead, president of Wickstead Works. "We have remained very active despite the economy, and we attribute that success in part to our partnership with the EarthCraft program."
EarthCraft has been consistently named the most recognizable residential green building certification in the country. Developed by the Greater Atlanta Home Builders Association through a partnership with Southface Energy Institute, government and industry leaders, EarthCraft House is a voluntary green building program that serves as a blueprint for healthy, comfortable homes that reduce utility bills and protect the environment. Since EarthCraft's inception in 1999, more than 450 builders have become builder members and more than 7,150 homes in the Southeast region have been certified to EarthCraft standards.
As an experienced remodeling company, WicksteadWorks provides solutions for numerous types of situations. For example, one renovation project of WicksteadWorks was for a family with two asthmatic children. After the project was completed, the children's asthma symptoms were completely gone due to WicksteadWorks' renovations of the crawl space and HVAC system. Once the renovations were complete, the house became EarthCraft certified.
About WicksteadWorks:
WicksteadWorks has completed a wide variety of projects earning numerous honors for their work. In 2009 and 2010 the Atlanta-based remodeler was recognized by Southface and The Greater Atlanta Home Builders Association (GAHBA) as EarthCraft Renovator of the Year. In 2007, WicksteadWorks received an OBIE Award for Best Renovation. WicksteadWorks completed a whole house renovation transforming a 1930's bungalow into a modern energy-efficient home, while maintaining the original architectural integrity. More recently, WicksteadWorks was featured on Renovation Nation, a regular program on the Planet Green channel, for the innovative water conservation and rainwater reuse techniques they incorporated into a Myrtle Street project. For more information about WicksteadWorks visit http://www.wicksteadworks.com.
# # #