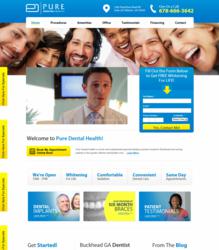 My first time at Pure Dental Health, I saw Dr. Muccioli and she made me feel at ease and answered all of my questions. I was very pleased with the dental office and the customer service I received. Glad to have a new dentist!
John - Atlanta, GA
Atlanta, GA (PRWEB) December 13, 2012
Pure Dental Health is pleased to announce the addition of Atlanta Dentist - Dr. Lydia Muccioli to their Buckhead-Midtown dental practice. Dr. Muccioli graduated from dental school at The University of Michigan and then completed a 12- month Advanced Education General Practice Residency. She brings over fourteen years of experience to Pure Dental Health. Most recently, Dr. Muccioli practiced dentistry at Fort Stewart Dental Clinic in Ft. Stewart, Georgia. Prior to that she was a dental provider for the medical staff at Eisenhower Hospital in Augusta, Georgia and a member of the staff at the Pentagon Tri Service Dental Clinic. She is now committed to working with Dr. Justin Scott and the dental support staff at Pure Dental Health to deliver the highest standard of comprehensive dental care in Atlanta. Dr. Muccioli is already getting good reviews from the patients at Pure Dental Health. Here is what one patient had to say:
In addition to the expansion of their staff, Pure Dental Health is also expanding their marketing efforts by advertising on a popular Atlanta radio station, Q100. Q 100, a contemporary radio station in Atlanta, features top 40 music and strong personality involvement.
The radio ad went on the air Monday, November 6th. It directs people to go to http://www.puredentalhealth.com/offers where they can print off offers for a $99 exam with x-rays, cleaning and whitening, a $50 gift card, free whitening for life, and $250 off of cosmetic dental treatment. The intent of the ads is to create brand awareness among the massive population of Atlanta and the surrounding areas. Apparently, the radio ads are working. A member of Pure Dental Health's marketing department reports the following: "In only a few days, we have seen increased phone and internet traffic!"
About Pure Dental Health:
Pure Dental Health is a comprehensive dental practice located in Midtown and serving the greater Atlanta metropolitan area. This one-of-a-kind dental practice offers top quality dental care, a customer experience that is unmatched, in-network fees and in-house financing. For more information about Pure Dental Health, please visit their website at http://www.puredentalhealth.com.