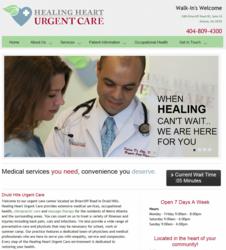 We are here to fill patients' need for professional, compassionate and convenient medical care.

Fidias E. De León MD
Atlanta, GA (PRWEB) May 20, 2013
Healing Heart Urgent Care is pleased to announce the opening of their newest office on Briarcliff Road in the Druid Hills neighborhood of Atlanta. Their urgent care facility includes Dr. Fidias E. De León M.D. and a group of licensed Chiropractors and massage therapists who will provide extensive medical services, occupational health, chiropractic care and massage therapy for the residents of the greater Atlanta metropolitan area. They also offer a full range of physicals that may be needed for work, school, sports or summer camps.
This newest office is a part of a national chain of urgent care facilities that offers extensive medical services, without an appointment. Like other urgent care facilities around Atlanta, Healing Heart Urgent Care welcomes walk-in patients and is available seven days a week to provide medical care for children and adults of all ages. However, unlike your typical urgent care clinic, Healing Heart Urgent Care offers unique patient amenities including curbside drop-off assistance, a calming relaxation area, neck and shoulder wraps, warm and chilled facial cloths, herbal teas, healthy snacks, private waiting rooms and free Wi-Fi.
"We feel that patients should not have to sacrifice comfort to get the quick and effective medical care that they need. We understand how hard it can be for working professionals and busy parents to schedule appointments and to get to the doctor's office during normal business hours. We also understand that patients want personalized medical care in a relaxing and comfortable environment. We are here to fill patients' need for professional, compassionate and convenient medical care," said a spokesperson from Healing Heart Urgent Care. With the growing population in Atlanta and the large number of working professionals and families, this urgent care facility gives the residents of Atlanta access to medical care when they need it and fills a definite need in the market.
About Healing Heart Urgent Care:
Healing Heart Urgent Care is located in the Loehmann's Plaza at 2484 Briarcliff Road. Their office hours are Monday-Friday 9AM – 8PM and Saturday and Sunday from 9AM – 6PM. If you would like more information, please call their office at (404) 809-4300 or visit their website by clicking on the link below: