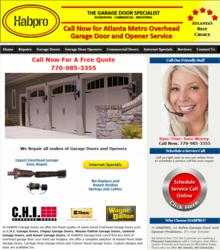 All of us at Habpro Garage Doors are committed to customer satisfaction and value.
Bill Farmer - President
Atlanta, GA (PRWEB) September 27, 2012
Habpro Garage Doors, an Atlanta-based garage door company, is celebrating their third year of having a five-star rating on Kudzu.com. Kudzu.com, which is owned and operated by Cox Search, Inc., is a website that features consumer reviews and detailed profiles of local businesses. The online community provides consumers with information about local providers in a number of key categories including home improvement, dentists, childcare and auto repair. Consumers are encouraged to post reviews on Kudzu.com detailing their experiences, both positive and negative, with local companies. Companies are then given a rating based on the reviews. A five-star rating is the highest category possible.
To date, Habpro Garage Doors has received 191 reviews on Kudzu.com from customers who used Habpro to repair their garage door. The overwhelmingly positive reviews describe them as "dependable, professional and reasonably priced," and also praise their prompt, fast service. This favorable rating has served to increase Internet traffic to their website and has helped them to expand their garage door repair customer base.
About Habpro Garage Doors:
Habpro Garage Doors is a full service garage door company located in Lawrenceville and serving commercial, residential and industrial clients throughout the greater Atlanta metropolitan area. They specialize in garage door replacements and in the repair of all makes and models of garage doors and garage door openers. Established in 1978, Habpro Garage Doors has proudly served the residents of Atlanta and the surrounding areas for over 33 years.
For more information about Habpro Garage Doors please visit their website at http://www.habprogaragedoors.com.