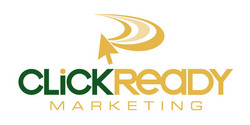 Companies are switching to web marketing solutions for both budgeting and a better way to measure their advertising spend through web analytics
Dawsonville, GA (Vocus) September 7, 2010
Click Ready Marketing a prominent search engine marketing agency in Atlanta announces that 7 more businesses last month, signed on as clients. CRM (Click Ready Marketing) helps small to midsize businesses improve their web presence via on-site and off-site optimization and strategies. Michael Lawson (Director of Operations with CRM) says, "Companies are switching to web marketing solutions for both budgeting and a better way to measure their advertising spend through web analytics". They have helped many clients improve their web presence and have many pricing options that make their services affordable to small businesses. In fact; they have not lost a single account in the last 24 months. Click Ready management feels this is a combination of results combined with great service.
One of their new clients is Martin & Associates PeopleSource. They are one the nation's premiere restaurant management recruiters agencies that is based in the Atlanta area. The firm decided for a small spend; they had a great chance of obtaining increase awareness of potential clients and the ability to reach more prospective candidates to fill their available positions. Thus they interviewed several SEO Companies and decided to try CRM.
Another new client for Click Ready Marketing is Keegan Investments. This Georgia Financial Services Company is a full service provider. They are able to help with annuities, insurance, and many other investment choices. Keegan Investments knew that they had to use web marketing solutions to reach new clients and make people even in their local town aware of their business. Thus Sherry Keegan owner / operator choose Click Ready to help increase her web visibility.
Silent Partner PI also knew that web marketing was something that could not be avoided. This is why he sought out and hired Click Ready. He knows how important it is to rank well for keywords internet searchers use when trying to hire someone in his business such as the term "private detectives Atlanta". This was his reason from leaving traditional advertising media and investing in Search Optimization.
Everything Coffee and Tea also decided to invest in search advertising. They decided to give this form a try do in part to the in cost of other advertising media they were using. The owner admitted that he himself used the internet to research and buy new products. It made sense that his on potential clients would follow the same process. They already had a great web site. It just needed to be promoted. They are one of the top coffee shop supplies companies in the south.
Dented Auto of Dawsonville Georgia also became a client. He does lots of other advertising but realizes that a complete marketing program must include a good web presence. He also chose Click Ready mainly because of their small business jump start program. He know that his business paintless dent removal needs both consumer awareness and education to his process benefits over traditional auto body shops. Thus the internet is a perfect medium.
Two other companies that operate web based businesses also became clients. One is Coffee Franchise Reviews. They are an agency that provides information about available coffee franchises. Their whole business is via the web so this was an easy decision for them. In addition; Trucking Jobs Direct their sister company also signed up with CRM as well. They provide up to date information about trucking jobs. Both knew the importance of organic rankings on the major search engines.
If you would like to find out more about Click Ready Marketing follow the link: SEO Magic.
###