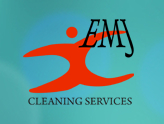 Our goal is to lighten the load and make our customers' lives a little easier
Atlanta, GA (PRWEB) February 19, 2013
On February 15th, Atlanta commercial cleaning and residential cleaning company, EMJ Cleaning, announced its spring specials for local businesses to take advantage of. These specials are listed on EMJ Cleaning's website, emjcleaning.com, and are for smaller, one floor offices; a discount will be offered to any first-time customer.
Owner of EMJ Cleaning, Eric Cano, states: "Our spring specials have been very popular for commercial businesses because these specific customers want their offices cleaned after the holiday season."
When companies call EMJ Cleaning's services, they have the opportunity to choose the most convenient appointment time based on their schedules. EMJ Cleaning's commercial services include the following: vacuuming carpeted floors, mopping hard surface floors, detailing kitchens, detailing restrooms, dusting French Doors, dusting baseboards, dusting windows and window blinds, removing trash and cleaning break rooms, fitness centers, lobbies, hallways, cubicles and other office areas.
"We have been providing our services for over 10 years and we are continuing with our tradition of offering spring specials to local offices this time of year. Our goal is to lighten the load and make our customers' lives a little easier," says Cano.
EMJ Cleaning uses only the most advanced equipment and quality name brand products for each job, such as Windex, Pine-Sol, Clorox, Pledge, Soft Scrub, Palmolive, Comet, Simple Green and more. A list of descriptions for each product can be found on EMJ Cleaning's website for a better idea of the treatments provided.
"All of our employees have lots of experience with residential and commercial cleaning. EMJ Cleaning holds its staff to the highest degree of professionalism and ethics when it comes to servicing our customers," says Cano.
In addition to commercial companies, EMJ Cleaning provides residential cleaning services, such as carpet cleaning, window cleaning and more all at affordable rates. If you're interested in finding out more about EMJ Cleaning's spring specials, visit the website or call 678-966-9469.