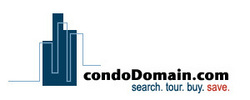 Boston, MA (PRWEB) October 16, 2008
CondoDomain.com is pleased to announce the expansion of their web-based real estate business model in the Atlanta, Georgia and Charlotte, North Carolina marketplaces.
With the launch of these two markets, CondoDomain.com is now operating in four cities with plans to launch 4 more on the immediate horizon.
The business model, which has yielded more than $300,000 in cash rebates back to their Boston-based clients this year, has been nothing short of an instant success and the company plans to aggressively rollout additional markets before year-end.
"Growing a business like CondoDomain.com, that offers superior service while saving individuals thousands in commissions on their new home purchase, is no easy task, especially in these market conditions. However, the model is much more recognized and appreciated in times like this." Noted, Anthony Longo, Founder & Broker of the firm.
Leading the new markets will be two veteran real estate brokers: Ursula Henry in Atlanta, GA and Terry McDonald in Charlotte, NC.
Both Henry and McDonald will now be in charge of all of the real estate operations in their prospective cities. Throughout the years, they have proven their commitment and passion in the Atlanta and Charlotte real estate markets and will now strive to become a valuable resource and advocate for condo buyers in this new Internet home buying era.
Meet the team or search for Atlanta condos or Charlotte condos.
About CondoDomain.com
CondoDomain.com is a web-based real estate brokerage based in Boston, MA. The company is expanding nationwide to offer its buyers' brokerage business model in more than 30 cities around the U.S. Currently operating in Atlanta, Boston, Charlotte & Dallas, CondoDomain offers an innovative flat-fee business model allowing the majority of the commission to be refunded back to the buyer. By combining up-to-date MLS feeds, new construction buildings, FSBO, Foreclosures, Lofts and Auction listings all on one site, CondoDomain has become one of the most popular and user friendly real estate websites available. CondoDomain.com offers a 100% satisfaction guarantee to all of its clients, ensuring a professional, efficient, and pleasant transaction. Visit http://www.CondoDomain.com for more information or feel free to dive into our blogs at http://www.CondoDomain.com/Blog.
# # #