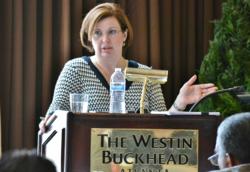 (Lisa) was able to present the information in a way that allowed the audience to understand this complicated topic.
Atlanta, Georgia (PRWEB) April 02, 2013
Experienced disability attorney Lisa Siegel spoke at two important Atlanta conferences in March. The first event was held at Piedmont Hospital by CEU Concepts, and was part of the Resource-A-Palooza series. Siegel spoke about both supplemental security income and social security disability income topics, including who qualifies, how to apply, and proven techniques for winning benefits. A large majority of the nearly 200 attendees were social workers and case managers seeking to improve their ability to answer client and patient questions about what to do when unable to work because of a disability.
CEU Concepts President, Anne McSweeney, said Siegel's presentation was very well received by participants. "Lisa did a phenomenal job speaking on the topic of social security disability to our crowd of almost 200 healthcare professionals at our Piedmont Hospital "Resource-A-Palooza" continuing education seminar," said McSweeney. "She was able to present the information in a way that allowed the audience to understand this complicated topic."
Siegel also spoke at the "Social Security Disability: Boot Camp" conference held at the Westin Buckhead in Atlanta. The event was organized by myLawCLE, a national provider of continuing legal education for attorneys. Siegel's session included key issues disability lawyers face in properly handling a SSD benefits case, such as what medical records are needed and how to organize them, working with vocational experts, and the appeals process.
Siegel is scheduled to speak again in early June at a CEU Concepts seminar for healthcare providers.
About Lisa Siegel: AV Rated attorney Lisa Siegel brings over 20 years of injury and disability law experience to each client's case. Her law firm is known for providing a strong combination of legal knowledge, efficient representation and personal service. The office is located near Children's Healthcare of Atlanta, and represents both children and adults in SSD cases across the state of Georgia.
About CEU Concepts: CEU Concepts, http://www.ceuconcepts.com, provides continuing education for social workers, case managers, discharge planners, nurses and other healthcare professionals. The company's goal is to provide seminars that are fresh, informative, interesting and thought provoking, while utilizing the highest quality speakers.
About myLawCLE: myLawCLE provides new and insightful courses that help attorneys develop practical support materials for building their law practices. The company is committed to providing the very best continuing legal education classes in the country, and making them available online and in easily accessible formats for practicing attorneys.