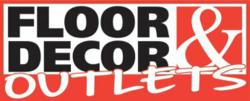 The increase in organic revenue and keyword ranking has been great; however, the level of
service provided by Vayu has been exceptional
Atlanta, GA (PRWEB) October 20, 2011
Floor and Decor Outlets of America Inc. serves do-it-yourself consumers and professional contractors, focusing on the residential remodeling segment. In their competitive industry, Floor and Decor turned to Vayu Media the Atlanta internet marketing leader for Search Engine Optimization. When Vayu Media started, Floor and Decor had low rankings for keywords and not enough conversion points. The objective of the SEO campaign was to improve the Floor and Decor web presence and drive business to the ecommerce store at flooranddecoroutlets.com.
Prior to their engagement with Vayu, Floor & Decor had 2 keywords on page one of Google. Today, they boast 126 keywords on the first page. Their organic search revenue is up 140% with spikes of up to 200% during periods. Page views are up 200% and all top-tier competitive keywords Vayu Media targeted are in top 3 Google positions. Though seasonal spikes are expected, the trend line is moving from 12.5k to 25k weekly visitors. The return on investment has been incredible with a revenue/$1 SEO spend ratio of 13 to 1.
"The increase in organic revenue and keyword ranking has been great; however, the level of service provided by Vayu has been exceptional," commented Cozean Hedrick Senior Manager, Social Networking & Online of Floor & Decor Outlets, Inc.
Over several months, Vayu Media optimized the Atlanta flooring leader's site and measured that the traffic SEO was driving contributed to higher revenue and visitor count than other sources. The organic growth has eliminated the need for the PPC investment and offset the cost of Floor & Decor SEO services by the reduction in PPC spend.
If you want to find out how SEO can help you grow your retail business contact Vayu Media today at 800.456.1563 or email at info(at)vayumedia(dot)com.
###