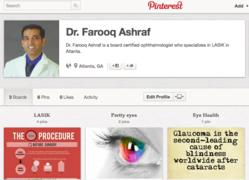 Pinterest will be a great way to give our patients a more visual experience of our services, the office and other resources for eye-health
Atlanta, GA (PRWEB) February 14, 2013
On February 10th, board certified ophthalmologist and Atlanta LASIK surgeon Dr. Ashraf of the Atlanta Vision Institute announced the office's recent Pinterest account created to enhance patient experience. Dr. Ashraf expressed a desire to connect with its patients via multiple social media platforms in addition to Pinterest, such as Facebook, Twitter and Google+.
"We are excited about joining Pinterest and building our profile," says Dr. Ashraf. "Pinterest will be a great way to give our patients a more visual experience of our services, the office and other resources for eye-health."
Pinterest is a popular photo sharing website that allows people to collect and share photos across a multitude of categories, such as food, events and more. Pinterest can be considered an online to-do list by many and it's becoming one of the fastest growing social media platforms today. Many businesses are taking advantage of Pinterest's sharing capabilities to improve the way they interact with their clients.
"We enjoy utilizing all of these social media outlets because they allow us to connect with our patients on a more personal and instant level," says Dr. Ashraf. "We look forward to our future 'pinning' efforts!"
The Atlanta Vision Institute is home to some of the most advanced technology, such as the fifth-generation IntraLase iFS™ Laser for LASIK surgery. In addition, the Atlanta Vision Institute has a personable and knowledgeable staff to take care of patients and help meet their needs.
Dr. Ashraf has personally performed more than 40,000 LASIK surgeries in Atlanta and his clinic in Dubai. He received his medical degree at the Medical College of Ohio as well as extensive training from Johns Hopkins University and the Wilmer Eye Institute. Dr. Ashraf is very passionate about helping his patients to see clearly in order to have a more well-rounded lifestyle!
For more information about Dr. Ashraf at the Atlanta Vision Institute, visit atlanta2020.com or call 770-622-2488.