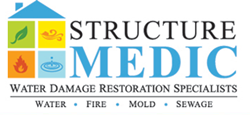 'This is a professional project. I get a lot of calls from people who have tried to do this themselves, and their small water problem turned into a huge mold disaster because it was not handled correctly.'
Atlanta, Ga (PRWEB) September 19, 2013
StructureMEDIC, an Atlanta mold removal service, has experienced a substantial increase in water damage and mold removal jobs in September. The Atlanta area has had a total rainfall of 45.23 inches this year, which is almost 16 inches above normal, according to the Atlanta Journal Constitution. Most of the surplus rainfall has occurred since June, and the combination of water and heat has created the ideal breeding ground for mold.
This amount of rain causes problems because the excess rain can be too much for some structures to bear, and water is much more likely to enter buildings instead of being absorbed into the ground, particularly if downspouts are not properly placed.
"This allows water to gush into homes," says Stephen Elliott, owner of StructureMEDIC. "It's like a geyser, and if you don't get that water dried out quickly and professionally, you will have a serious mold problem."
Mold cannot always be seen, and often times it grows in areas of the home that are hidden, like behind walls and under carpets. This is part of the reason why Elliott stresses that it is important to hire a professional service to remove mold or clean up water damage: "This is a professional project. I get a lot of calls from people who have tried to do this themselves, and their small water problem turned into a huge mold disaster because it was not handled correctly. Professionals know where to look for the hidden problems, and in the long run it is cheaper to get it done right the first time."
StructureMEDIC is one of the most experienced water damage restoration teams in the state of Georgia. The dedicated crew is on call 24 hours a day, 7 days a week and provides the following services: water damage cleanup, fire damage restoration, smoke and soot cleanup, de-humidification, mold removal, claims inventory service, sewage backup repair, HVAC/air duct cleaning, deodorization, and bio hazard cleaning. If recent weather has caused water, mold, smoke, or fire damage to your home or business, call StructureMEDIC's team at 404-934-5967 or toll free at 1-800-764-4613. You can also visit them at http://www.structuremedic.com for additional information.