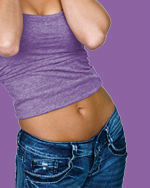 The outcome of a tummy tuck is a flatter abdomen, which in turn leads to increased self-confidence
Atlanta, GA (PRWEB) December 27, 2012
Board certified by the American Board of Plastic Surgery, Atlanta plastic surgeon Dr. Mark Deutsch of Perimeter Plastic Surgery was interviewed this week to reveal the most requested and performed procedure of 2012 at his facility: the tummy tuck, also known as abdominoplasty.
"The bulk of my operations this year has been the ever popular tummy tuck," says Deutsch. "Many women who have had children typically request a tummy tuck to get the flat stomach they had prior to pregnancy and childbearing. Unfortunately, sometimes diet and exercise just don't cut it for certain people, which is why a tummy tuck can be a great option."
A tummy tuck is also called an Abdominoplasty and it's a procedure that involves creating an incision within the underwear line area to remove excess fat and skin. Contrary to popular belief, a tummy tuck is not the same procedure as liposuction. In fact during a tummy tuck, the abdominal muscles become tightened to enhance the flatness of the stomach after the surgery is over.
During the interview, Dr. Deutsch was able to answer a common question that his patients ask in regards to tummy tuck procedures: "The recovery process for a tummy tuck requires several days of rest and relaxation, accompanied by prescribed narcotics and antibiotics. The outcome of a tummy tuck is a flatter abdomen, which in turn leads to increased self-confidence."
Dr. Deutsch is able to perform a mini-abdominoplasty and a full-abdominoplasty depending on the patient's needs. Prior to undergoing a tummy tuck, the patient must have a thorough consultation with Dr. Deutsch to ensure that the individual is a good candidate for the surgery.
Dr. Deutsch has been in the plastic surgery industry for over 15 years. In addition to performing a variety of plastic surgery procedures, such as tummy tucks and breast implants, Dr. Deutsch performs reconstructive surgery for breast cancer patients. Dr. Deutsch had 7 years of plastic, general and reconstructive surgery training from LSU Medical Center and Albert Einstein/Montefiore Medical Center, two very prestigious institutions. If you would like to learn more about Dr. Deutsch on Google+ or about Perimeter Plastic Surgery, call 770-461-4824 or visit perimeterplasticsurgery.com today.