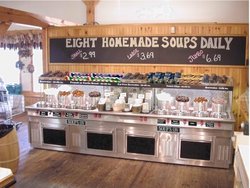 Palm Beach Gardens, FL (PRWEB) April 3, 2009
The brutal winter of 2009 brought record snowfall, deadly ice storms and sent a chill up the spines of millions. Uncertain economic times do nothing to thaw the chill. Soup Bar manufacturer Atlantic Food Bars says "fight the freeze" with hot soup to warm the hearts of your customers.
Atlantic Food Bars offers the foodservice industry virtually thousands of sizes, shapes and layouts of soup bars, including full-service and self-service hot soup bars, self-service combination hot and cold soup bars and self-service cold grab & go soup displays. Starting with sizes as small as 24", to as long as 13', Atlantic Food Bars builds soup bars for any location.
Visit http://www.atlanticfoodbars.com to see some of the many in- line, end cap, island and wall model soup bars that help food retailers capitalize on a growing, profitable category that builds their fresh image, while offering comfort foods such as stews, chili, and soups.
"Atlantic Food Bars has been the industry leader in soup bar innovation", says Carl Feldman, President and 3rd generation owner of Atlantic. "Atlantic was the first manufacturer to offer combination hot and cold soup bars, which are the perfect vehicles to drive cross merchandising sales of soup for now and later, as well as meal combinations including soup, sandwich and a drink."
Farmer Brown's, a roadside country store in rural Massachusetts has built a following for their home-made soups that keeps a line forming out the door. Atlantic Food Bars worked with Robert and Kathy Brown to develop their first soup bar, a 4' unit, which they quickly outgrew. Today, Farmer Brown's boasts the country's largest soup bar, measuring a full 13' long. Their staff works 24/7 preparing 8 fresh soups daily and "our soup business has taken on a life of its own" says Kathy Brown.
For more information, or to look at soup bar options, as well as salad bars, seafood display cases, hot food cases, and other food display cases, visit the Atlantic Food Bars website.
About Atlantic Food Bars:
Atlantic Food Bars was founded in 1947 and has continuously served the foodservice industry for 62 years. Company President Carl Feldman is the third generation owner of this family run business.
# # #