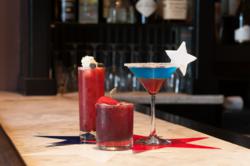 As one of America's earliest seaside resorts, Cape Resorts Group is commemorating America's illustrious history and future with the introduction of the Presidential cocktails.
Cape May, NJ (PRWEB) September 27, 2012
Cape Resorts Group, an All-American hotel collection is excited to unveil Presidential themed cocktails for the upcoming election season. In addition to the picturesque beaches for which Cape May is well known, Cape Resort's Group properties are praised nationwide for distinctive programming that attracts discerning travelers year round. With the addition of three mouth-watering Presidential drinks, Congress Hall and The Virginia are bolstering their beverage options, all while celebrating our American heritage.
For almost two centuries Congress Hall has offered hospitality to locals and vacationers alike. Once dubbed the "Summer White House", the property became a summer retreat for the nation's presidents. President Benjamin Harrison, Ulysses S. Grant, Franklin Pierce, and James Buchanan have all chose to vacation at Congress Hall.
As one of America's earliest seaside resorts, Cape Resorts Group is commemorating America's illustrious history and future with the introduction of the Presidential cocktails. Served throughout the month of November, The Elephant, The Donkey, and The Incumbent are made with the finest ingredients including blueberries and raspberries. With a various mix of tasty pomegranate liqueur, black cherry rum as well as Cointreau and Curacao, the cocktails are available at all Cape Resort Properties restaurants including Congress Hall's Blue Pig Tavern and Brown Room as well as The Virginia's acclaimed Ebbitt Room.
To add to the excitement, locals can bring in their "I Voted" sticker to any Cape Resorts Group property restaurant on Election Day or the week following, and they will receive 10% off any election drink.
About Cape Resorts Group
Cape Resorts Group, a division of high-profile real estate development firm Cape Advisors, Inc. founded by Curtis J. Bashaw and Craig Wood in 1996, has offices in Cape May, NJ, Atlantic City, NJ and New York, NY. Known for its expertise in adaptive reuse and historic preservation of resort and hospitality properties on the New Jersey Shore, Cape Resorts Group manages hotels and rental properties including The Chelsea in Atlantic City, NJ as well as Congress Hall, The Virginia Hotel and Cottages, The Star Inn, and Sandpiper Beach Club in Cape May, NJ. Officially opened in summer 2009 is the retro-chic Beach Shack featuring the reopening of the iconic Rusty Nail Bar and Restaurant. Less than two miles away from Congress Hall, Beach Plum Farm provides fresh, locally and sustainably grown fruits, produce, poultry, and meats to the Cape Resorts Group family of restaurants.
Cape Advisors, Inc. has wide-reaching experience in the development of office and mixed-use projects, single and multi-family residences, warehouse and light industrial buildings, hotels and conference centers, land development and retail projects. In addition to Cape Resorts Group properties, Cape Advisors, Inc. is developed The Mondrian SoHo Hotel in New York City with Morgan's Hotel Group. Residential projects developed include 210 Lafayette Street (One Kenmare Square) and 19-23 St. Mark's Place in New York City, NY and the much-anticipated and critically acclaimed 100 Eleventh Avenue designed by French architect Jean Nouvel as well as the conversion, adaptive reuse and expansion of the landmark Bulova Watchcase Factory in the historic Hamptons village of Sag Harbor, New York.
For additional information on Cape Resorts Group please visit http://www.CapeResortsGroup.com.