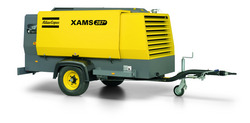 (PRWeb UK) April 29, 2010
Following customer demands, Atlas Copco extends the use of Deutz engines for its middle range of compressors.
Two new Deutz powered units are designed for reliability and a fast return on investment. These compact units bring high performance to demanding job environments, ensuring continued profitability. Typical applications are general construction work, the installation of fiber optic cables, abrasive blasting, small hole drilling, and they are strong additions to the fleet of equipment rental companies.
The new 128 kW TCD 2012 T3 Deutz engine management system provides optimized fuel economy. With the addition of the innovative and proven FuelXpert™system, regulating engine speed and air intake, fuel consumption is further optimized. The upgrade of the units will be highlighted by adding an extra "+" sign to the model numbers, as in XAHS 237+ (12 bar and 236 l/sec) and XAMS 287+ (8.6 bar and 285 l/sec).
Featuring centralized fluid drains, accessible service points and service doors that can be fully opened, the units allow for easy maintenance and provide many years of trouble free operation.
The units come with extra options like an aftercooler/ waterseparator to extract condensate from the compressed air, and Cold Weather Equipment to allow starting down to -25 deg C (-13 deg F). Also Refinery Equipment is available for enhanced safety in areas with inflammable gases.
Portable Air is a division within Atlas Copco's Compressor Technique business area. It develops, manufactures and markets portable compressors, natural gas boosters, and generators for prime or standby power worldwide. Products are offered to the construction, rental and general industries under several brands. The divisional headquarters and main production center are located in Antwerp, Belgium.
Atlas Copco is an industrial group with world-leading positions in compressors, construction and mining equipment, power tools and assembly systems. The Group delivers sustainable solutions for increased customer productivity through innovative products and services. Founded 1873, the company is based in Stockholm, Sweden, and has a global reach spanning more than 170 countries. In 2009, Atlas Copco had about 30 000 employees and revenues of BSEK 64 (BEUR 6.0). Learn more at http://www.atlascopco.com .
For further information please contact:
Elsie Vestraets, PR Coordinator Portable Air Division
Phone: +32 (0)3 401 98 11 / e-mail: elsie.vestraets(at)be(dot)atlascopco(dot)com
###