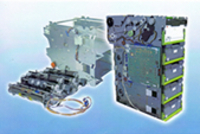 For an ATM service provider to outsource their ATM parts inventory management, they need complete control and absolute assurance of security. At TestLink, we provide exactly this assurance.
(PRWEB) September 21, 2010
ATM service providers could be wasting millions of pounds on their ATM parts inventory, warns TestLink, the world's largest independent ATM spares provider.
Research by TestLink suggests at least one-third of all ATM parts held by ATM service providers is "dead stock", a significant financial drain that is costing far more than planned when the costs of warehousing, staff, logistics, obsolescence and depreciation are accounted for.
Global ATM service providers managing thousands of machines need rapid access to huge numbers of ATM parts to meet their repair targets. Deadlines can be as short as four hours or they risk serious financial penalties. Under these circumstances, service providers naturally assume that holding huge reserves of (ageing and depreciating) ATM parts is essential – racking up significant overheads and costs in the process.
There is another option however. ATM service providers can dramatically cut costs and save time by outsourcing their ATM parts inventory management. TestLink has worked closely with ATM service providers over two decades to cut reduce costs significantly and remove what has become a huge administrative headache.
TestLink Managing Director, Greg Hughes said: "For an ATM service provider to outsource their ATM parts inventory management, they need complete control and absolute assurance of security.
"At TestLink, we have developed unrivalled technical expertise, bank approved facilities, secure online tracking and sophisticated inventory management and reporting systems in order to provide exactly this assurance. Our recent purchase of major UK ATM parts supplier OEM further has only improved this situation."
TestLink's relentless focus is on stripping out operational costs and headaches for ATM service providers. We do this by consolidating logistics operations and passing on the financial benefits of economies of scale. As a result, customers can benefit from:

Zero warehousing and staff costs
Zero depreciation
Zero obsolescence costs
100% recycling of repairable, broken parts
The significantly reduced administration overhead of a single-source solution
Simple, predictable and scalable charging models.
Specifically, TestLink has developed three key offerings to help ATM service providers – 100 per cent yield; ATM Parts Inventory Management and ATM Parts Inventory Ownership.
Guaranteed 100 per cent parts yield has an all-inclusive price that ensures TestLink will fix and return 100 per cent of all ATM parts sent in for repair. Benefits include:
known costs, guaranteed repairs
no additional sourcing is needed to make up any ATM parts shortfalls. The yield is always 100 per cent
reduced administration because only one vendor is needed
lower transport costs because parts come from one main source
ATM Parts Inventory Management means that TestLink will manage the whole ATM parts cycle with sophisticated online inventory systems but the customer retains ownership of its inventory assets. Benefits include:

known cost per transaction or cost per ATM
no warehousing is needed, freeing up space
reduced staff levels as no pick, pack and despatch are needed
futureproofing, obsolescence protection. TestLink advises on excess inventory and ensures best return on investment
rapid reaction to volatile changes in demand
reduced analysis of stock levels.
ATM Parts Inventory Ownership offers all the advantages of ATM Parts Inventory Management but instead TestLink provides and owns the inventory: "There are no inventory investment costs and no depreciation costs – this will be very popular with financial directors."
TestLink also has a solution for ATM service providers stuck with large numbers of ATM parts that they cannot use: "We are always interested in buying excess inventory."
TestLink is the largest independent ATM parts supplier in the world with at least £3 million of ATM parts inventory now available on demand. The company repairs more than 5,000 parts every month and employs more than 150 trained ATM experts at four secure locations.
As an independent ATM supplier which operates to the ISO9000 and ISO14001 quality standards, TestLink is best known for ATM machine sales and the remanufacture of ATM machines to 'as new' condition. TestLink supplies hundreds of top brand remanufactured ATMs such as NCR ATM machines at up to 70 per cent less than the cost of brand new ATMs.
To meet growing demand for turnkey ATM services, TestLink has expanded its offer to include:

TestLink also has a dedicated Chip & PIN repair operation and a laptop repair business, Laptop Support, which provides solutions for corporate and individual users. For more information, contact TestLink Managing Director Greg Hughes on +44 (0)1202 627100.
Information for Editors:
UK & Western European Operation
TestLink Services Ltd
No. 1 Factory Road
Upton
Poole, Dorset
BH16 5SJ
United Kingdom
Telephone: +44 (0)1202 627100
Fax: +44 (0)1202 625577
Central European Operation
TestLink Services Ltd
Luzna 591/4
Prague 6
16000
Czech Republic
Telephone: +420 220 121 450
Fax: +420 220 121 449
TestLink – Cutting Costs By Innovating Service
TestLink Services Ltd is an independent ATM supplier specialising in ATM remanufacture, ATM refurbishment and ATM asset & estate management – benefiting the global environment by increasing the reuse and recycling of automated banking equipment and reducing ATM-related waste.
ATM operators and third party manufacturers across the world can cut costs by up to 70 per cent by purchasing ATMs remanufactured by TestLink to 'as new' condition.
TestLink has 20 years of experience providing repairs to the leading ATM OEMs and maintenance organisations. The company has a capability across NCR and Wincor ATMs on all module types.
TestLink engineers strip each ATM down to its individual components, painstakingly rebuilding each module for maximum operational efficiency and longevity of service.
Each refurbished ATM undergoes a detailed 210-point inspection at TestLink before being shipped with delivery from just seven days.
Services provided by TestLink include:

ATM asset & estate management with detailed reports on how well your ATMs are functioning, recommended servicing and preventative maintenance, modules and parts inventory. Reports include the performance of external non-TestLink engineers and whether they need ATM training to improve productivity
ATM parts inventory management – sophisticated systems with online visibility of your inventory and its movements; secure storage of modules and parts; secure disposal of old or obsolete parts and modules to UK Ministry of Defence standards
ATM parts repairs – fast turnaround time; online status system; premium quality parts; obsolete part support; direct to site international shipment by advance exchange
ATM cassettes (NCR, Wincor, Fujitsu) – supply of refurbished ATM cassettes; repair and refurbishment of ATM cassettes; testing and configuration of ATM cassettes
supply of hand-portable NCR ATM cassette testing systems
ATM security – anti-ramming, anti-skimming and ATM cassette locking bars
mobile computer support to the corporate sector, repairing OEM products both inside and outside warranty
mobile computer support to SMEs and individual computer users via TestLink's dedicated website http://www.laptopsupport.co.uk
specialised Chip & PIN repairs on behalf of banks and third party maintenance organisations; refurbishing Chip & PIN devices to 'as new' condition.
TestLink serves its global markets from two fully resourced repair centres in the UK and one in the Czech Republic. Many of the 150 staff have direct OEM experience gained as engineers at ATM manufacturers NCR and Wincor.
TestLink was founded in 1989. It is still managed by its two founders, Chairman Nick Beer and Managing Director Greg Hughes.
The company operates to ISO9000 quality systems and ISO14001 environmental systems standards with an ethical environmental policy.
###