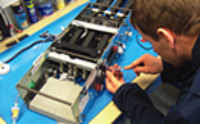 We have invested heavily in a new sales office, secure warehouse and updated website to ensure an unrivalled parts service delivery.
(PRWEB) February 1, 2011
TestLink has launched its new ATM Parts service, giving global ATM operators faster access to £7.5 million worth of spares inventory and much more.
The new launch confirms TestLink's place as the world's largest independent supplier of ATM parts.
It follows TestLink's acquisition of ATM spares specialist OEM Oceansound Ltd earlier in 2010. The new ATM Parts service combines the best of both businesses. From now on, the OEM name will be replaced by the new TestLink ATM Parts brand.
TestLink Managing Director Greg Hughes said: "This is more than just a name change and we have invested heavily in a new sales office, secure warehouse and updated website to ensure an unrivalled parts service delivery."
The new ATM Parts service provides a huge range of NCR ATM parts and Wincor ATM spares – from piece parts such as gears, belts, bearings and card reader heads to complete ATM modules repaired by OEM-trained technicians in bank-approved secure facilities. Preventative maintenance kits are also available to enhance ATM reliability still further.
TestLink's large live stock inventory means that clients get their ATM machine parts much faster with guaranteed same day shipping. Customers also benefit from free online technical information and a 90-day no quibble warranty.
The ATM part finder website helps customers track down the spares they need faster, more easily and cost effectively. Users can search for ATM parts by OEM manufacturer; part number; description; module type or where components are used. They can also get free technical advice about ATM spares through Live Chat.
And unlike rival spares suppliers, TestLink ATM Parts also supplies ATMs remanufactured and upgraded to 'as new' condition, up to 70 per cent cheaper than new ATMs. These ATMs are as reliable as brand new machines.
To mark the launch of TestLink ATM Parts, the company is offering a 10 per cent discount on the first purchase in February for ATM spare parts. (Please quote reference 260861 at time of order to receive your discount).
ATM components supplier TestLink operates to the ISO9000 and ISO14001 quality standards and has an ethical environmental policy.
For more information about ATM hardware, contact Managing Director Greg Hughes, +(0)1202 627100.
Information for Editors:
UK & Western European Operation
TestLink Services Ltd
No. 1 Factory Road
Upton
Poole, Dorset
BH16 5SJ
United Kingdom
Telephone: +44 (0)1202 627100
Fax: +44 (0)1202 625577
Central European Operation
TestLink Services Ltd
Luzna 591/4
Prague 6
16000
Czech Republic
Telephone: +420 220 121 450
Fax: +420 220 121 449
TestLink – Cutting Costs By Innovating Service
TestLink Services Ltd is an independent ATM supplier specialising in ATM remanufacture, ATM refurbishment and ATM asset & estate management – benefiting the global environment by increasing the reuse and recycling of automated banking equipment and reducing ATM-related waste.
ATM operators and third party manufacturers across the world can cut costs by up to 70 per cent by purchasing ATMs remanufactured by TestLink to 'as new' condition.
TestLink has 20 years of experience providing repairs to the leading ATM OEMs and maintenance organisations. The company has a capability across NCR and Wincor ATMs on all module types.
TestLink engineers strip each ATM down to its individual components, painstakingly rebuilding each module for maximum operational efficiency and longevity of service.
Each refurbished ATM undergoes a detailed 210-point inspection at TestLink before being shipped with delivery from just seven days.
Services provided by TestLink include:

ATM asset & estate management with detailed reports on how well your ATMs are functioning, recommended servicing and preventative maintenance, modules and parts inventory. Reports include the performance of external non-TestLink engineers and whether they need ATM training to improve productivity
ATM inventory management – sophisticated systems with online visibility of your inventory and its movements; secure storage of modules and parts; secure disposal of old or obsolete parts and modules to bank-approved standards
ATM parts repairs – fast turnaround time; online status system; premium quality parts; obsolete part support; direct to site international shipment by advance exchange
ATM cassettes (NCR, Wincor, Fujitsu) – supply of refurbished ATM cassettes; repair and refurbishment of ATM cassettes; testing and configuration of ATM cassettes
supply of hand-portable NCR ATM cassette testing systems
ATM security – anti-ramming technology and ATM cassette locking bars
mobile computer support to the corporate sector, SMEs and computer users, repairing OEM products both inside and outside warranty
specialised Chip & PIN repairs on behalf of banks and third party maintenance organisations; refurbishing Chip & PIN devices to 'as new' condition.
TestLink serves its global markets from two fully resourced repair centres in the UK and one in the Czech Republic. Many of the 150 staff have direct OEM experience gained as engineers at ATM manufacturers NCR and Wincor.
TestLink was founded in 1989. It is still managed by its two founders, Chairman Nick Beer and Managing Director Greg Hughes.
The company operates to ISO9000 quality systems and ISO14001 environmental systems standards with an ethical environmental policy.
###