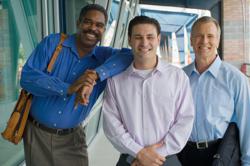 "Only individuals with a well rounded education in a specific discipline will be able to pass the exam and become certified. Employers no longer have to hope and pray that they hired the right individual for the job." Mark Miller, CSTM CSMS
Ann Arbor, MI (PRWEB) July 28, 2011
The economy may be rebounding, which means companies may be ready to hire. That is good news for the fresh, new college graduates out there. But how do companies jump into the hiring pool and not drown in bad decisions like hiring under qualified applicants?
They look for professional certifications for engineering technology.
Why?
Professional Certifications provide employers with evidence that an individual:

has achieved a nationally recognized standard of excellence
goes above and beyond the minimum expectations
is committed to the profession
has a skill set that allows the new hire to add value to an organization on day one
strives to stand out as the best
is highly motivated and interested in keeping up with the latest technological change
All professional certifications are not the same. But what are the attributes of a good certification?
Go to the certifying organization's website and see if there is a recent list of current certified members. While at the website also look for the following:
1. Does the organization revalidate the exam on a regular basis?
2. Does the exam reflect the current technology and standards?
3. Does the applicant need to meet stringent guidelines such as earning a college degree in the discipline and provide evidence of continuing education to maintain certification?
4. Is the Board of Certification composed of professionals from the industry?
By hiring applicants with a professional certification, companies can enjoy the summer growing the business; instead of wasting time doing basic training to get newbies up to speed.
Mark Miller, CSTM, CSMS, Professor at University of Texas-Tyler and Certification Board Chair for the Association of Technology, Management, and Applied Engineering (ATMAE) says, "Only individuals with a well rounded education in a specific discipline will be able to pass the exam and become certified. Employers no longer have to hope and pray that they hired the right individual for the job."
The Association of Technology, Management, and Applied Engineering (ATMAE) is an international organization that sets standards for academic program accreditation, personal certification, and professional development for educators and industry professionals involved in integrating technology, leadership and design. For more information, visit our website at http://www.atmae.org.
###