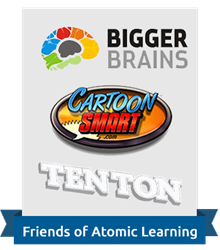 By partnering with these top professional learning providers, Atomic Learning is rapidly growing our impact on learners around the world.
Little Falls, MN (PRWEB) February 02, 2015
Atomic Learning—in a continued effort to help learners connect the dots between learning and life through their online training platform—recently started a partner program to expand the breadth of content available, and add a variety of teaching methodologies. The first three companies to become "Friends of Atomic Learning" and have training added include Bigger Brains, Cartoon Smart, and Ten Ton Online.
"By partnering with these top professional learning providers, Atomic Learning is rapidly growing our impact on learners around the world," said Jon Blissenbach, Atomic Learning's VP of Product and Business Development. "The dynamic instructional techniques, such as the teacher & learner model used by Bigger Brains, and the new topical areas of emphasis, such as character design and mobile game development by Cartoon Smart, are just a couple examples of exciting additions from this program."
"Our team of professional educators, trainers, storytellers, and comedians provide courses that are both entertaining to watch and effective in transferring knowledge," Chip Reaves, President of Bigger Brains said. "Teaming up with Atomic Learning—a company dedicated to helping educators—was a no brainer (no pun intended)."
Over 220 hours of "Friends of Atomic Learning" training content has been added to the Atomic Learning library. Each of these partners has a unique subject matter expertise to expand Atomic Learning's training library to better serve learners. Bigger Brains' training focuses on productivity techniques, Cartoon Smart specializes in design, game, and mobile development, and Ten Ton Online's videos focus on web development. Training series recently added include:
Drawing Cartoon Animals Using Sketchbook Pro
Motivational Ethics
Online Marketing 101
Sales 101: Appointment Making Tips & Tricks
To become a "Friend of Atomic Learning" and have your training featured as part of the Atomic Learning training library, contact Jon Blissenbach at 866.259.6890, ext. 146 or email jblissenbach(at)atomiclearning(dot)com. To learn more about becoming an Atomic Learning subscriber, visit: http://www.atomiclearning.com/more.
About Atomic Learning
Founded in 2000 by a group of technology educators, Atomic Learning serves over 16 million individuals in more than 45 countries worldwide. Atomic Learning offers a cost-effective just-in-time professional development, technology integration and support solution that empowers educators to effectively utilize technology to positively impact student achievement. As your ed tech training partner, Atomic Learning helps teachers develop college and career-ready students with 21st century skills-based training. Visit us today at http://www.AtomicLearning.com.