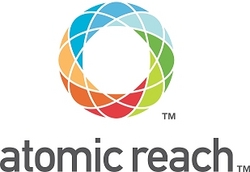 Brands need to start thinking and behaving like Publishers in order to deliver an online experience that captivates the attention of their customers, fans and advocates.
Canada, Toronto (PRWEB) February 22, 2011
Atomic Reach, opened its business operations earlier this month serving the North American market. Atomic Reach is a social publishing platform that helps brands deliver fresh and compelling content to their customers every day.
A growing number of companies are looking for high-quality content to attract and engage consumers, as well as build awareness and brand relevance.
"Creating relevant and interesting content internally, however, can be a challenge due to a lack of resources or expertise", said Bradley Silver, President of Atomic Reach. "The Atomic Reach social publishing platform solves this predicament by providing companies with a new way to deliver high-quality content from a variety of sources focused on their brand, product or industry".
Through the use of their innovative social publishing platform, companies can create information hubs on their websites, Facebook pages and on fan owned sites across the web, that consumers will want to visit on a regular basis rather than just when they have a specific need. The platform helps brands accomplish this by extending the editorial environment to include stories from selected bloggers, videographers, journalists and photographers who are already out there producing compelling content. For brands, this solves a key predicament, the ability to define the content and participant selection process enabling them to deliver a specific informational need to their customers. For consumers, access to peer based content in a single environment is a big time-saver and a valuable informational resource.
With a number of successful customer betas underway the platform is now ready for general availability. The company is poised to announce a new set of features and templates to dramatically enhance the user experience with the introduction of new design elements and functionality tools.
About Atomic Reach
Toronto-based Atomic Reach is a privately held social technology company, founded in 2010. The company's social publishing platform connects companies and brands looking for high-quality content with the people who create great content every day.
Led by President and co-founder Bradley Silver, Atomic Reach's management team
consists of web services technology experts and social media industry leaders.
For additional information visit – http://www.atomicreach.com.
Contact:
Annette Wong
Atomic Reach Inc.
Email: annettewong(at)atomicreach(dot)com
###