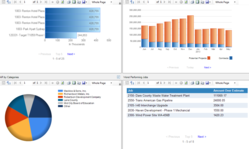 We have been listening to the needs of our customers and understand the demands year-end reporting takes a on an organisation's resources. We are constantly looking to simplify all aspects of accounting processes
Portland, OR (PRWEB) June 25, 2012
Viewpoint Construction Software, provider of best-in-class, mission critical ERP and ECM software for construction companies, is pleased to announce the latest release of Viewpoint V6 Software. In a continued commitment to meet customer needs, this release makes it easier for construction firms to comply with Australian Taxation Office (ATO) requirements and facilitates the tracking and payment of benefits to contractors. Viewpoint also brings numerous usability enhancements to the web-collaboration tool, Viewpoint Connects, providing greater collaboration between project stakeholders, subcontractors and employees.
Specific to accounts payable, there are two new features. The first allows customers to report on payments named to specific vendors in order to comply with a new ATO requirement that begins July 1 2012. The second facilitates the tracking and payment of superannuation and other benefits to contractors whose roles are similar to employees. These new features reduce the time intensive process of reporting on vendors, provides an easier method to comply with the new ATO requirements, and enables construction firms' staff to easily track and pay benefits to contractors.
Rob Humphreys, Viewpoint Vice President of Product Management states, "We have been listening to the needs of our customers and understand the demands year-end reporting takes a on an organisation's resources. We are constantly looking to simplify all aspects of accounting processes which lead to overall greater efficiency and profit ratios."
Additional Product Enhancements
New features have been added to the Job Bills module allowing users to now move job bills into a future month. This enhancement will allow you to close your general-ledger (GL) month without removing JB Progress Bills that have not been pushed into accounts receivable. You will now also be able to push any uncertified claims into future months when closing the GL month.
With this latest release, Viewpoint Connects navigation and web interface has been significantly improved to enable quicker adoption by employees and external business partners. Based on customer feedback changes also include customisable columns, a collapsible menu, and content boxes reducing the need to scroll up and down to see all of the content. In addition Viewpoint Connects provides two new screen background options to optimise screen real estate and numerous usability enhancements with timecards make it even easier for field personnel to use. Viewpoint Connects is an integral part of the V6 roadmap focused on increasing collaboration and communication capabilities for construction firms of all sizes and complexities.
About Viewpoint Construction Software
With a long-standing focus on meeting the information needs of mid to large-scale organizations, Viewpoint Construction Software has achieved a leadership position in construction enterprise software. Viewpoint V6 Software is an ERP suite of integrated applications for Accounting, Human Resources, Project Management and Construction Operations. Construction Imaging is an Enterprise Content Management (ECM) and workflow suite with complete integration to Viewpoint and other industry accounting and project management applications. Available as cloud and on-premise solutions, our configurable and scalable products address the unique needs of leading firms throughout the U.S., Canada and Australia.
Viewpoint works closely with its customers to gain specific insights necessary to evolve the software as industry conditions change. The result is software that is built to adapt and scale as customers' business needs grow and change. Most importantly, it means providing an information platform as rock-solid as the foundations our customers build their roads, bridges and buildings upon. For more information, visit http://www.viewpointcs.com.