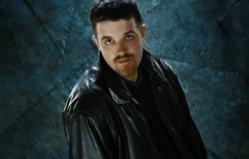 Picture of Rapper Atrane, from a photo shoot for his mixtape LC King!
Lapeer, MI (PRWEB) October 06, 2012
Atranes goal with making the song "A Soldier for A Soldier" is simple. To help a selfless boy named Brendan Haas to make a difference in Soldiers lives. When Atrane saw his story, it touched Atrane so much that he decided to contact him on Facebook to tell him he wanted to write a song for Brandan. The song's proceeds will go to his organization to help Soldiers in need. "A Soldier for A Soldier" is not just a family help organization that assists our Soldiers, it should be a way of life for Americans and people around the world. Atrane wanted to do this because his dream is to be a rapper. Seeing Brendan making a difference made Atrane feel he wanted to pay it forward. That's why he wrote this song "A Soldier for A Soldier". To help our brothers and sisters in arms that sacrifice their lives for our country everyday.
Atrane for the past 10 years has been in the mixtape scene. He has performed with many rappers, and managed many musicians. Atrane was featured on the "Slip N Slide On Da Grind Mixtape". Also, he was featured on the Dj Smoke Independent Daze Mixtape and has his own Mixtape LC King that can be seen all over the web. In my opinion though, the best moment in Atranes life was being able to do this song, and when Brendan's mother told him he loved the song, it made him just so happy to be a part of their effort to Help Soldiers, and just to be able to be a part of their lives. The Haas family are amazing people and their effort to help our troops is going to be there for a long time coming.
Atrane had a great support system on the production of this song, he had his friend Robert "Doughboy" DeMoss do the hook, and his friend Walt Nelson from DWP Multimedia make the music for him. He calls himself a Soldier. He might not be on the battlefield, but Atrane is at home doing a small part for the greatest people in the world -our Troops. Atrane thanks Brendan and the Haas family for this opportunity, and wants people to go buy his single featuring Robert "Doughboy "DeMoss which was made for Brendan. Atrane song goes to" A Soldier for A Soldier" and there is no middleman. So they collect 100% of the proceeds. Go to songcastmusic.com and search A Soldier for A Soldier, or go to Soundclick.com/asoldierforasoldiermusic, soon to be on Amazon and other digital outlets. The most important thing is for all of you to like their official facebook page "A Soldier for A Soldier", they're great people with big hearts.
A Nickk Entertainment Production