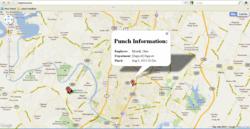 Now management has real-time visibility to their mobile workforce.
Austin, Texas (PRWEB) September 16, 2011
Legiant today announced the release of a new feature for their Legiant Express solution that simplifies mobile employee time and attendance management. Legiant Express now includes a GPS Employee Map display that allows managers to see the punch locations of their employees with just one click. The GPS Employee Map takes advantage of Legiant's free mobile applications on smart phones like the Android™ and iPhone™.
"Our goal of making automated time and attendance software accessible to every member of the workforce has led to the development of the GPS Employee Map," said Walter Ross, CEO. "With just one click, supervisors can view a map with the punch locations of their remote employees that includes their name, project, and time of the recorded punch. Now management has real-time visibility to their mobile workforce."
The map is displayed using the Google Maps™ mapping service, which allows supervisors to view the punch locations with a standard, color map or with actual satellite images. Managers can now be sure an employee is at the expected location when work begins. The data is captured in real-time, so the moment a crew clocks in at a remote site, the supervisor can view the GPS Employee Map to confirm they are at the correct location. This mapping feature is standard on Legiant Express solutions and requires that mobile employees use the free application Legiant Mobile Timecard Express.
About Legiant
Legiant is a leading provider of web-based time and attendance software for payroll, attendance, productivity, leave and project tracking. Flexible time and attendance tracking solutions help Legiant's customers maximize the profitability and productivity of their workforce. Solutions such as Legiant Timecard™ and Legiant Express™ include mobile workforce tracking, biometric data collection devices and workforce productivity reporting. Legiant combines software, hardware, and professional services to create a comprehensive time tracking solution.
Android™ is a trademark of Google Inc. Legiant™, Legiant Express™ and the Legiant logo are trademarks of Legiant. iPhone™ is a trademark of Apple, Inc. All other trademarks herein are properties of their respective owners. All rights reserved.
###