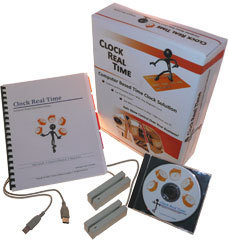 High gasoline prices tend to keep both customers and employees out of shops, stores and restaurants. These small business owners need to save money every way possible. We've received reports of payroll savings the first time Clock Real Time is used to pay wages
San Diego, CA (PRWEB) April 25, 2008
Attendance tracking errors cost American small businesses billions each year contributing to employee cutbacks and layoffs. Small businesses can use time clock software to increase revenues by reducing errors and time clock administration. This helps businesses hire and retain more employees.
Kneson Software has just released time clock software called Clock Real Time (http://www.clockrealtime.com) that reduces payroll costs, employee time errors and administration. Clock Real Time increases accuracy by recording complete events as close as possible to when they happen. The software manages daily attendance, breaks, holidays, sick leave, comp time and overtime based on easily edited contract rules. Businesses have reported lower payroll costs from first use.
"High gasoline prices tend to keep both customers and employees out of shops, stores and restaurants. These small business owners need to save money every way possible. We've received reports of payroll savings the first time Clock Real Time is used to pay wages," said Don Henderson, President of Kneson Software. "Managers also love how they can see in a glance what staff is on hand and who hasn't arrived at any given moment. They report having more control with less employee timesheet management than ever before."
Clock Real Time allows business managers to see employees clock in and out instantly. The monitor component installs easily in multiple remote locations allowing managers to see who is present or absent in real time anywhere in the company.
The software manager processes time events automatically. Corrections take ten seconds or less if a time record is missed or logged incorrectly. The software manager automatically maintains precise time values and applies time events to contract, time off and other employee settings and rules. Rules like when overtime occurs or when all employees must clock out can be applied in real time.
Installation and setup is clean and fast and getting started using the system can take as few as 15 minutes. Setting up employees can take as little as one minute with no further administration. Clock Real Time collects and processes hours automatically using magnetic swipe cards for each employee. Employees can use any type of magnetic membership or credit card for time events. Blank magnetic cards are available from Kneson Software. See http://www.clockrealtime.com for more information.
About Kneson Software
Kneson Software is a software manufacturing and marketing company with over 15 years experience in perfectly matching identified customer needs with world-class software development. Kneson Software develops all of its products using pure C++, programmed by developers that have used C++ since its earliest days of its existence. All products are functionally and visually fast and highly tested for bulletproof performance. All Kneson Software products install cleanly, uninstall completely, and contain no Adware or Spyware.
Contact:
Don Henderson, President
Kneson Software
877-291-8583
http://www.kneson.com
# # #