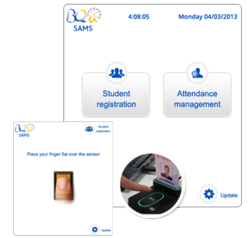 London, UK (PRWEB UK) 23 May 2013
BQuTMS introduced a Student Attendance Management System (BQuSAMS) to enable private colleges to gain accreditation for Tier 4 Licences for sponsoring overseas students. This is achieved through the better management of student engagement, to comply with UK Home Office requirements for maintaining Highly Trusted Status.
Home Office Ministers view controlling the numbers of students coming from overseas as a very effective route to achieving their goal to fulfil earlier pledges to reduce the number of immigrants coming to the UK. The Private College sector is still seen as an easy target.
With immigration control becoming an increasingly 'hot topic' in political debate and the media, the UK political parties are queuing up to establish themselves as offering credible solutions to an issue that their focus groups and pollsters tell them really matters to the UK electorate.
An eminent panel of experts at the recent English UK Annual Conference stated unequivocally that Private Colleges remain a key target for the UK Home Office in relation to immigration control. Nichola Carter of Carter Thomas Solicitors, Lee Bartlett of Fragomen LLP and Alice Sachrajda of IPPR gave a seminar titled 'Perspectives on international students and immigration'.
According to the expert panel, this will be manifested in the following ways:

Increased numbers and frequency of audits of Tier 4 licence holders
Private Colleges stated as a 'Key target'
Increased numbers of licence withdrawals
Increased efforts to remove non-compliant institutions and students
Increased numbers of unannounced inspections
Blanket use of 'Credibility Interviews' conducted from Sheffield by Skype
Increased severity of penalties for non-compliant owners and managers
Increase accountability for owners and managers
Negative publicity for non-compliant institutions
Increasing use of other bodies – Educational Oversight/Accreditation and Awarding Bodies
Where criminal offences have been committed, fines, prosecutions and potentially imprisonment for owners/managers
Differentiation between HEI's and others
It is imperative for Private Colleges to do everything possible to protect themselves from inadvertent non-compliance. If this is discovered in more than area, it will be treated in just the same way as wilful or negligent administration and be classed as 'wide spread systemic failure'. This will lead to withdrawal of licence and possible further action against the owners/managers.
Private Colleges need to ask themselves, how they would deal with an unannounced audit visit that would require them to produce evidence that they satisfy all licence requirements and obligations.
The key points BQuTMS find are important in relation to an audit from the authorities are discussed in their blog article "Private Colleges are still Key Target Sector for Home Office".
The outlook for the foreseeable future is more of the same, with an increasing focus on compliance and greater numbers of student interviews.
With the threats and enormous business costs of non-compliance, most forward looking colleges are considering how they can establish operational systems and processes that ensure compliance in an effective, reliable and cost efficient way.
The regulatory auditing teams are well trained; know what they are looking for and where to look for it. Increasing the amount of independently gained information from college staff, students, QAA and Awarding Bodies, reduces the management's influence on the evidence that will be turned up in an audit.
This leaves only one option for those who wish to be successful, to commit to compliance and ensure that college staff have the tools, systems and processes to carry this out in the most efficient way possible.
BQuSAMS (Student Attendance Management System) has been designed to ensure that Private Colleges have the systems and processes to ensure compliance with Tier 4 licence requirements. It is proven to be one of the best and most cost effective biometric cloud-based solutions available for privately-owned organisations. Further details are available at http://www.bqutms.com/.