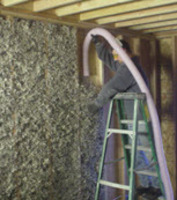 Our natural attic and roof insulation is ideal for remodeling or retrofit projects because it's safe and easy to handle - Bob Workman
Portland, OR (PRWEB) October 28, 2010
Oregon Shepherd, a leading Attic Insulation company is proud to announce its alternative to traditional insulation products. The new PermaLoft® and PermaBatt® product lines are made of sheep wool and give consumers a choice in natural home insulation.
According to Bob Workman, general manager at Oregon Shepherd: "Our PermaLoft insulation is perfect for horizontal spaces such as attics, roofs and ceilings and can be hand placed or blown between framing members."
"In this economy, homeowners looking for ways to save money and help the environment have found sheep wool insulation to be an economical and eco-friendly way to keep their home warm in the winter and cool in the summer," continued Workman. "Our roof insulation is ideal for remodeling or retrofit projects because it's safe and easy to handle, requiring no protective equipment typically used during traditional fiberglass insulation."
The ceiling and loft insulation can be hand placed or blown into its final location by DIY homeowners. The depth of the installation provides the criteria for any R-factor appropriate for the particular installation.
Oregon Shepherd's, attic insulation products result in zero VOC emissions, both during their manufacture and in use. They provide superior breathability, improve indoor air quality, and are non-allergenic. In addition, the wool is treated with a 100% natural solution of organic materials that provide unequaled fire and vermin resistance.
Homeowners can learn more about attic, ceiling and roof insulation by downloading a free special report from the Oregon Shepherd website - "12 Reasons to Choose Natural Wool Insulation."
About Oregon Shepherd, LLC
Oregon Shepherd, LLC was formed in 2003 by Joel Pynch and Margaret Magruder with the specific goal of expanding traditional markets for natural wool products. In 2009, they engaged Bob Workman to develop the world's first loose-fill wool insulation that meets ASTM standards, investing in plant and equipment to manufacture wool insulation for the US market. Oregon Shepherd utilizes only domestically produced wool for their natural insulation products. To learn more about PermaLoft® and PermaBatt® natural wool insulation contact Bob Workman at 888-629-WOOL, or go to http://www.OregonShepherd.com.
###