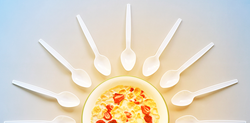 Eating a healthy breakfast in the morning helps children concentrate and achieve more in school.
Islandia, NY (PRWEB) May 28, 2014
Attleboro High School and Robert J. Coelho Middle School in Massachusetts were among 179 schools in the state to win the Massachusetts School Breakfast Challenge. This challenge was created by the Department of Elementary and Secondary Education to promote school breakfast, and in order to win, schools must achieve at least a 35% increase in school breakfast participation.
According to Laura Binder, Registered Dietitian at Whitsons School Nutrition, breakfast is considered the most important meal of the day as it provides the necessary energy to get ready for a day of learning and achievement, "Eating a healthy breakfast in the morning helps children concentrate and achieve more in school. Having a balanced meal to start the day provides an opportunity to obtain the nutrients that contribute to strong bones and muscles and better mood."
Whitsons School Nutrition, food service providers at Attleboro Public Schools, worked closely with the administrators to develop a plan to increase the breakfast participation. Besides providing nutritious breakfast meals every day, they created different promotions at every school level to create excitement about breakfast offerings, "Students enjoy the variety so we are always working on new and fun ways to get the students to eat breakfast", says Gail Benson, Attleboro High School Food Service Worker. For instance, Chef Brian Pappone from Whitsons School Nutrition at Attleboro schools prepared a Fruity Waffle Breakfast at all the elementary schools during National School Breakfast Week. At the secondary schools, they offered Waffle Bar Days and Yogurt Parfait Bar Days as well as fun giveaways.
Schools that achieve and maintain the 35% school breakfast participation rate by December 2014 will be recognized statewide.
# # #
Whitsons Culinary Group provides a wide range of highly customized dining services to public schools, corporations and institutions, with a strong focus on nutritious, high quality menus made from fresh, wholesome ingredients. Whitsons has a long and proud history of excellence and growth since 1979 and currently ranks the 4th largest school nutrition provider in the United States. Whitsons' scope of expertise and services extends to: emergency dining, residential and healthcare dining, prepared meals, and school dining and services.