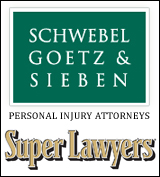 When you know that you have the experience and skills to make their lives a little easier, it is instinctive to want to do everything you can to help.
Minneapolis, MN (PRWEB) September 11, 2012
Personal injury attorney in Minneapolis, MN, James Schwebel, once again made the Top 100 Minnesota Super Lawyers list. Super Lawyers is a legal professionals rating service that publishes magazines and articles reaching 13 million readers. Schwebel was profiled in a recent article. "Jim Schwebel is in the business of rebuilding lives," by Jim Walsh, the firm's founding attorney comes through as a dedicated "champion" for his clients who does the hard work to "rebuild lives."
Expanding on the article Schwebel says, "Serious injuries from an accident frequently leave the victim and his or her family completely overwhelmed. When you know that you have the experience and skills to make their lives a little easier, it is instinctive to want to do everything you can to help. Being there for them in their time of need is enormously gratifying".
Few will forget when the I-35W Mississippi River bridge collapsed, killing 13 and injuring 145. Schwebel saw the horrid event that late afternoon from his office window, August 1, 2007. As emergency personnel rushed to the disaster, he knew that such a catastrophic disaster could have been avoided. As the area's leading Minneapolis personal injury lawyer he knew he would be playing a significant role.
Walsh writes that surviving victims and families were given misinformation that dissuaded many from seeking an attorney. While the state asserted "immunity," Schwebel knew that was not how it was "going to play out." Ultimately, it was shown that the privately contracted inspectors overlooked structural flaws. Schwebel won for his clients' awards in the millions. He knows that money is no substitute for a loved one, but as he often says: "Better to light a candle than curse the darkness."
Walsh draws out the human side of Schwebel in another example. When 38-year-old family breadwinner Anousone Phanthavong was killed by an intoxicated driver, it was Schwebel who championed the cause of the immigrant family. "I know the dependence that his whole family had upon him," quotes Walsh. "I know if we do our job right we'll be able to provide at least some of the financial security that he would have provided."
The driver was convicted of vehicular homicide and the civil case was favorably settled.
"When someone suffers serious injuries in an accident, all aspects of their life are disrupted," says Schwebel. "We know that to help them get back on their feet again they need help dealing with medical expenses, loss of income and even expert advice on selecting the best possible healthcare. When their lives are overwhelmed with numerous problems we are there with solutions. This is the life rebuilding culture of our firm".
Schwebel, Goetz & Sieben personal injury attorneys understand a serious injury, or the loss of a loved one, brings major disruption to the lives of the people involved. The lawyers strive to continue a tradition of aggressive, competent legal representation with integrity, hard work, and expertise to achieve positive outcomes for clients. Schwebel, Goetz and Sieben stays committed to handling legal matters quickly so that clients can concentrate on putting their lives back together.
To learn more about the firm and their awards, visit schwebel.com at http://www.schwebel.com
Hennepin County Court File No. 27-CV-09-7519