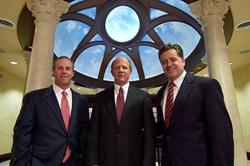 St. Louis, MO (PRWEB) May 19, 2013
The truck accident attorneys at The Onder Law Firm, which is based in St. Louis, MO but handles serious injury and death cases nationally, has provided suggestions for avoiding the most common types of accidents with commercial trucks by both accident type and truck type on its truck accident website and offers a consultation with an experienced attorney to anyone injured in an accident involving a commercial truck. Commercial truck accidents occur far too frequently in all parts of the country, whether they be on city streets, such as those involving delivery or garbage trucks, or on our interstate highways, often times involving a semi-truck and resulting in devastating consequences. Although all motor vehicle accidents may result in death or life-long injuries, accidents in which one or more of the vehicles are a commercial truck are the most likely to do so, and this occurs with the highest frequency in semi-truck accidents. As millions of Americans take to the highways for vacations and other trips this summer, truck accidents will unfortunately occur. The attorneys handling truck accidents at The Onder Law Firm wish to remind travelers that trucks, especially loaded semi-trucks, require a much greater distance to stop, or even slow, than a passenger vehicle or light truck and to give trucks adequate distance if road conditions suddenly require you to brake. All commercial trucks are built for carrying loads and to withstand regular heavy use, which results in a heavier vehicle even when unloaded, and drivers who cut in front of any commercial truck place themselves in unnecessary danger.
Just as the nature of injuries in a commercial truck accident are usually much more severe, the complexities in truck accident lawsuit are greater than other motor vehicle accidents. Claims against commercial trucking companies and their insurance policies require far greater resources than other auto accidents. The truck accident attorneys at The Onder Law Firm use specialized consultants to re-create the accident, examine the safety equipment of the truck and its maintenance history, the road where the accident took place, the safety history of the driver and the trucking company and all of the events surrounding the driver and truck in the hours, days and weeks preceding the accident. The firm's experience with truck accident lawsuits has shown that elements typically unexamined can show the true cause of why a truck accident occurred or why the injuries caused were worse than they otherwise should have been.
When truck accidents resulting in serious injury or death occur, The Onder Law Firm offers its assistance in the form of a no-cost, no-obligation truck accident lawsuit case review. The Onder Law Firm handles all commercial truck accident cases on a contingency basis, meaning they are only paid if and when they produce a result for their client. The truck accident attorneys at The Onder Law Firm welcome inquiries from other law firms in regards to handling or working as co-counsel on truck accident lawsuits.
About The Onder Law Firm
Onder, Shelton, O'Leary & Peterson, LLC is a St. Louis based personal injury law firm handling serious injury and death claims across the country. Its mission is the pursuit of justice, no matter how complex the case or strenuous the effort. Onder, Shelton, O'Leary & Peterson have represented clients throughout the United States, and other firms throughout the nation often seek its experience and expertise on complex litigation. It is a recognized leader in products liability cases such as window blind cord strangulation and pharmaceutical litigation. More information about The Onder Law Firm can be found at http://www.onderlaw.com.