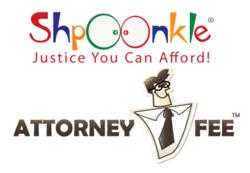 Consumers are savvy, and when making important legal decisions, having this data can be incredibly useful.
Miami, FL (PRWEB) March 05, 2012
Shpoonkle a free legal services site has partnered with AttorneyFee, the leading comparison engine for local attorney fees. Today, Shpoonkle announces the availability of Attorney Fee's API for use by Shpoonkle members. Data is king, and in the internet age the more information available to the consumer, the more empowered they will be to make critical decisions. The API enables Shpoonkle members to immediately access AttorneyFee's new prediction engine service which uses massive amounts of demographic data points to produce average pricing for dozens of legal services. Shpoonkle's clients post cases for free and attorneys bid on those cases, and the relevant national cost data for these services are then generated for both parties to review.
The AttorneyFee system displays geographic tailored flat-fee and hourly pricing for several legal services including divorce, wills and probate, and criminal defense, among many others. The prediction engine is powered by a custom arrangement of public record data that is expertly weighted by top economists to ensure accuracy.
"By offering our API in tandem with the introduction of our new prediction engine, we are presenting a great resource for potential partners in dozens of industries," said Richard Komaiko, Co-Founder of AttorneyFee. "Shpoonkle implemented this API as it provides powerful information for consumers (client or legal professional) during the reverse auction process. Consumers are savvy, and when making important legal decisions, having this data can be incredibly useful," said Robert Niznik, CEO of Shpoonkle. "The law and reasonably priced representation are needed for dozens of life situations, including divorce, real estate deals, motor vehicle infractions, and a host of others. AttorneyFee is allowing Shpoonkle to use its API to present the lawyer cost prediction engine to their audience, so they have fast and accurate access to the costs of legal services."
To learn more about the AttorneyFee API visit http://www.attorneyfee.com.
About AttorneyFee
Founded in 2011, AttorneyFee is an online legal comparison engine that enables consumers to instantly compare fees from hundreds of local attorneys nationwide. The legal service is free for both attorneys and consumers. Headquartered in San Francisco, the AttorneyFee index is built on up-to-date living data. Every day, new prices are added and old prices are retired or replaced. This enables AttorneyFee to track moving averages, identify trends, as well as provide more quantitative market insights than any other player in the industry. For more information, visit http://www.attorneyfee.com.
About Shpoonkle
Shpoonkle promotes advocacy to their members with free services; and exciting contests like this one offer Shpoonkle visitors an opportunity to win an amazing prize. Shpoonkle is an innovative free web site that allows clients to confidentially post a legal case on line where attorneys bid for that case. The client has the option to pick any of the bidders and can communicate privately with the attorneys. Shpoonkle and Shpoonkle Canada are either registered trademarks or trademarks of Shpoonkle, LLC. in the United States and/or other countries. For more information, contact: info(at)shpoonkle(dot)com or visit: http://www.shpoonkle.com
# # #